Known as Hisingsbron in Swedish, the structure provides a new link across the Göta River between the mainland and Hisingen Island, replacing the 81-year-old Götaälv Bridge.
On May 9, 2021, the bridge was opened for pedestrians, cyclists, cars and buses, while trams began operating in mid-August.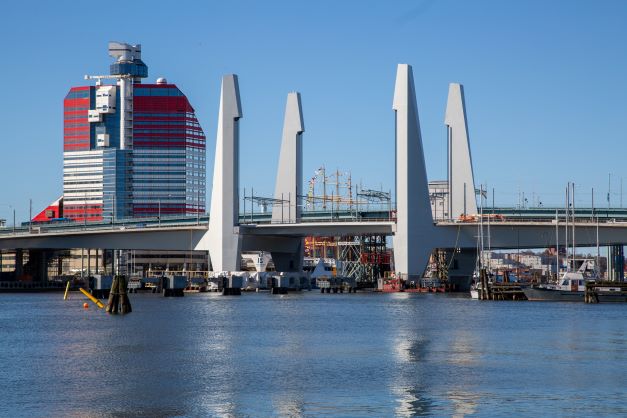 The four pylons that house the substantial lifting mechanism needed for the 44.3m-long lifting span are the most prominent feature of the bridge's design, which was created by Dissing & Weitling, Light Architecture, ELU and Leonhardt, Andrä und Partner.
The 440m-long section of the bridge over water has three pier bents, two of which support the lift span. This design decision was key to avoiding the old bridge's history of problems with movement due to the unfavourable local soil conditions.
With the relatively large size of the lift span, sufficient space had to be incorporated into the design of the lower pylon legs and cross-beams on either side to house the lifting gears and counterweights. As a result, these two sections combined are the largest prefabricated steel elements on the bridge, measuring 44m by 18m by 12.5m.
The US$350.3m structure was built by Skanska in a joint venture with MT Hojgaard, and the Götaälv will be demolished as part of the contract.