The Gateway is an arched bridge design submitted by Michael Van Valkenburgh Associates and structural engineer Schlaich Bergermann Partner.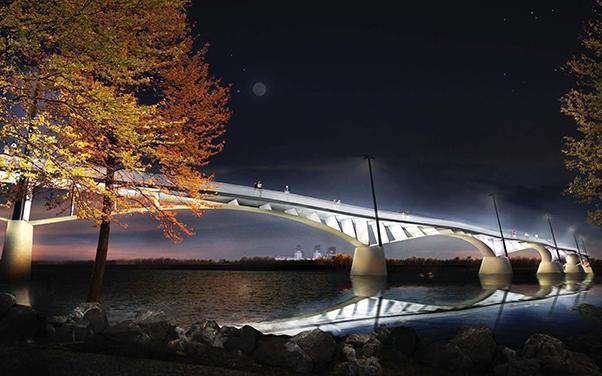 It will be built with a steel plate fabrication system that the designer says will be the first of its kind used in the United States. Local feedback on the original concept has led to the inclusion of a variety of shading structures and sitting areas, lighting features and separate lanes for bicyclists and pedestrians.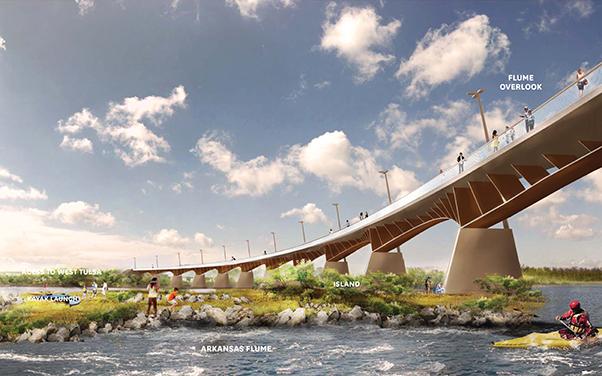 The city started a public process in March seeking conceptual bridge designs as the existing bridge suffers from structural deficiencies that could not be remedied. The city received 234 responses from individuals across the country and four designs were sent to the public for feedback. From more than 14,000 comments received, two designs - one by KKT Architects and one by MVVA - were selected to move forward and the respective firms were given 30 days to make adjustments to their concepts based on public feedback.
"The bridge selection process was truly a united effort by the community – from the creative individuals who submitted designs by the hundreds, to the thousands of citizens who provided essential feedback and to the selection committee for their hard work and diligence at every step of this process," said Tulsa mayor GT Bynum.
"The final decision was incredibly difficult as both concepts were world-class designs. MVVA's revisions to their original proposal in response to the public feedback process have produced a final design that will stand the test of time as a Tulsa landmark," Bynum added.
With a final conceptual design selected, the city will now begin developing a complete design and engineering plan for The Gateway bridge. Construction is expected to begin in 2018.
Funding for the construction of the pedestrian bridge has been prioritised to ensure that resources for the design and construction will be available immediately.