The tied-arch bridge was built entirely offsite than transported down the river and lifted into place onto the existing trestles.
Flatiron is the primary contractor for the US$131 million design-build project, which began on site in 2018 and is due for completion in 2022. Residents in the towns of Brilliant in Ohio and Wellsburg in West Virginia must currently travel about 13km north or 21km south to the nearest river-crossing points.
Barges equipped with Mammoet's mega jack system were used to jack-up and install the structure, which weighs 3,870t. Mammoet Global Services and Mammoet USA worked together on the installation.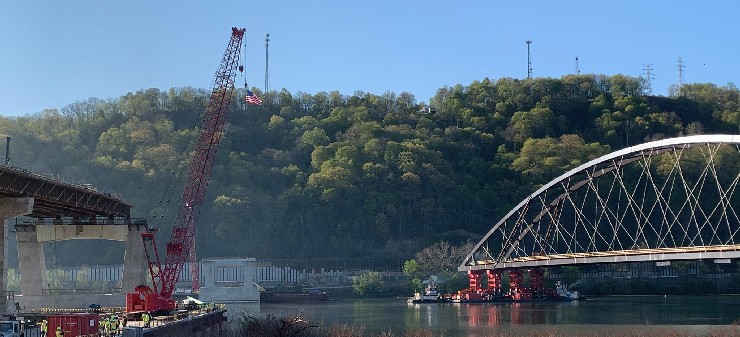 As part of Flatiron's proposal for an alternative delivery method, it suggested building a tied-arch main span that would be constructed offsite, upriver. Flatiron has been working with project partners, including RS&H, TRC Engineers and Cowi North America on the project. Project financing was made possible through a public-private partnership (PPP), involving Flatiron, West Virginia Department of Transportation and Ohio Department of Transportation, as well as federal highway funds.