The team led by Ney & Partners has won the high-profile international competition to design a new pedestrian bridge at the site of the historic Tintagel Castle in south west England.
The jury reached a majority decision to choose Ney & Partners, which is working with UK-based architectural practice William Matthews Associates.
The team beat 136 others in the course of the two-stage international design competition to secure the architectural and engineering commission for the circa US$5.7 million English Heritage project in Cornwall.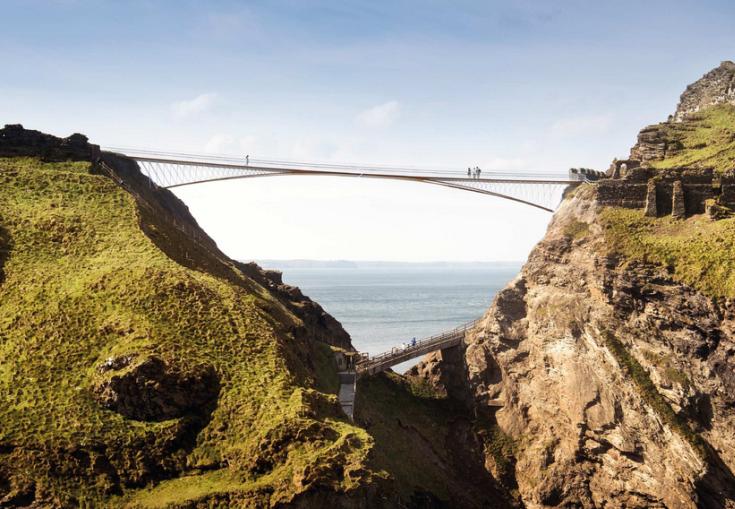 The judges said that the winning concept design is distinctive for its elegant, delicate profile and structural ingenuity. The proposal is based on two cantilevers and envisages a poetic gap between the two; it will recreate the land-link that once existed between the mainland and headland and reference the current void, caused by erosion.As the team explained in its winning presentation: "the narrow gap between the cantilevers represents the transition between the mainland and the island, here and there, the present and the past, the known and the unknown, reality and legend; all the things that make Tintagel so special and fascinating".
The team's inspiration for the cantilevered solution came from their study of Celtic history and the original drawbridge arrangement of Tintagel Castle. They propose using local slate for the bridge's decking and contrasting weathered and non-weathered steel to create finishes which allow sunlight to play on the structure but also give it an ephemeral quality, allowing the bridge to harmonise with the coastal landscape.
Kate Mavor, chief executive of English Heritage, said: "The winning team's concept is daring and very exciting.It is not the final design but instead a brilliant indication of the team's talent and imagination. We will now work with them on a design that will both complement the spectacular landscape and unlock for the visitor the history of the site.
Graham Morrison, chair of the jury, said: "This is a strong and confident concept design with a thoughtful geometry that meets the demanding, multi-faceted brief. The team presented with admirable clarity – both at interview and in the written materials. In the end, the jury was persuaded as much by the technical assurance of Ney's proposal, and its buildability, as its aesthetics and sensitivity to the exceptional setting."
Laurent Ney, managing director of Ney and Partners, said: "We are absolutely delighted to win the competition. We believe the experience of visiting Tintagel Castle is all about discovery and revelation, so it is important to us that our bridge lets the majesty of the site do the talking, that it is not too intrusive. Just as a good art museum recognises that the art is greater than the building so the new bridge needs to make the visitor's reading of Tintagel – its history and cultural power – as strong as possible."
William Matthews, founder of William Matthews Associates, said:"Tintagel Castle attracts visitors for many reasons: the dramatic landscapes and geological formations, the Dark Ages remains, the ruined 12th century castle and the legends of King Arthur and Tristan and Isolde. Together, they breathe an undeniable and powerful sense of life into the place – to be invited to contribute to that is a rare privilege and honour."
The other teams on the shortlist were:
Dietmar Feichtinger Architectes with Terrell (France)
Marks Barfield Architects with Flint and Neill (UK)
Niall McLaughlin Architects with Price and Myers (UK)
RFR and Jean-François Blassel Architecte, with EngineersHRW, and WSP (France)
WilkinsonEyre with Atelier One (UK)