Providence-based engineering firm Horsley Witten Group & Jonathan Harris has been picked following an open call to designers by the Providence Redevelopment Agency (PRA) in October 2020.
The design repurposes the landmark and its surrounding area, preserving the infrastructure while reinvesting in a new public space.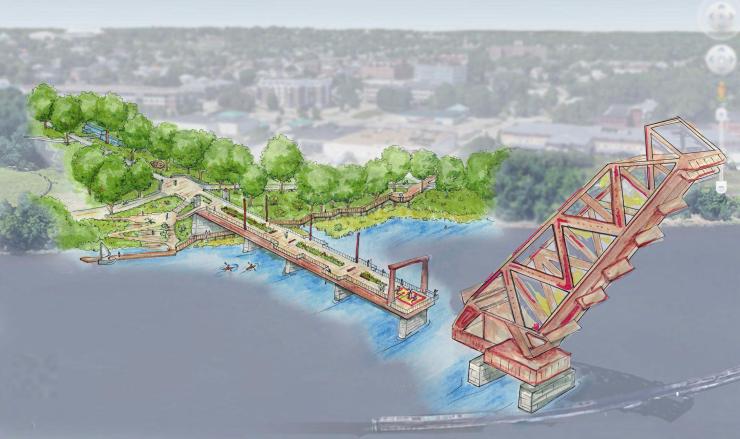 Mayor Jorge Elorza said: "As we continue to think about infrastructure in new and creative ways, the preservation and reimagining of the Crook Point Bridge unlocks novel ways to engage and connect with our existing environment. This remarkable vision combines our history with our future, repurposing the structure as an illuminated beacon for residents and visitors to enjoy for generations to come."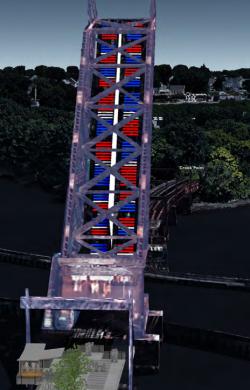 The restoration of Crook Point Bridge, outlined in the firm's winning proposal, would create new riverfront public spaces for events and community gatherings, re-establish shorelines and ecosystems and identify opportunities for the siting of new affordable housing. The design features glowing light bars, which would display rotating artwork installations in place of the bridge's railroad ties (see image, left).
"The City of Providence is committed to preserving our infrastructure by creating new life for old architecture," said Bonnie Nickerson, director of planning and development. "Where there is opportunity for structural restoration and reuse, it is our obligation to think creatively about how we can produce useful and exciting new areas that positively contribute to our city."
"We are honoured to be chosen by the city we love for a project that is dear to our hearts," said Horsley Witten Group & Jonathan Harris. "The three of us use and enjoy this stretch of the riverbank and we feel invested in its future. We have spent our careers planning, designing, and engineering to provide great places for people and public access for all, so the recognition here at home in this inspiring place is very special. We look forward to participating as the city's exciting vision unfolds."
The Crook Point Bridge, or the Seekonk River Drawbridge, was built in 1908 and used to connect the old Union Station to the New York, New Haven & Hartford Railroad Line. It has been left in the open position since becoming defunct in 1976.
Over 78 applicants from around the world submitted ideas. In February, five finalists were announced and invited to participate in round two, which included a US$1,000 award to create a more detailed second-round submission. Horsley Witten Group & Jonathan Harris will receive a US$10,000 award as the winning firm.