The 852-tonne (950-ton) section of the FIU-Sweetwater University City Bridge was built adjacent to the eight-lane Southwest Eight Street using accelerated bridge construction (ABC) methods, which are being advanced at FIU's Accelerated Bridge Construction University Transportation Center (ABC-UTC).
The main span of the bridge was installed in a few hours over the weekend, with limited disruption to traffic. The bridge was designed by Figg Bridge Engineers and built by MCM. Barnhart Crane & Rigging operated the self-propelled modular transporters that placed the bridge on its permanent supports.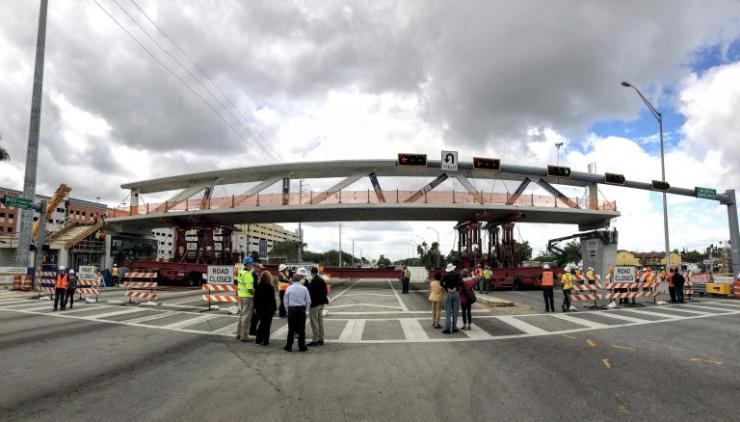 "This project is an outstanding example of the ABC method," said ABC-UTC director Atorod Azizinamini, who is also chair of FIU's civil and environmental engineering department. "Building the major element of the bridge – its main span superstructure – outside of the travelled way and away from busy Eighth Street is a milestone."
The university said that that the FIU-Sweetwater University City Bridge is the largest pedestrian bridge moved via self-propelled modular transportation in US history and that it is the first in the world to be constructed entirely of self-cleaning concrete. When exposed to sunlight, the titanium dioxide in the concrete captures pollutants and turns it bright white, reducing maintenance costs.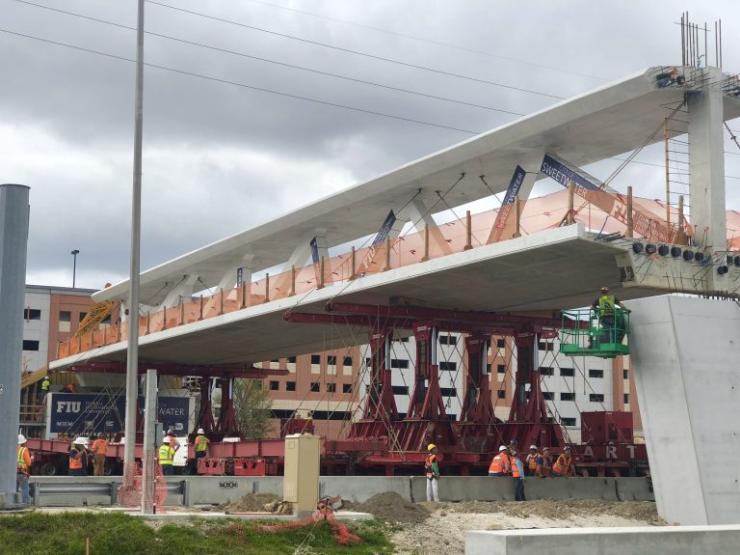 Funding for the US$14.2 million bridge, connecting plazas and walkways is part of a US$19.4 million Transportation Investment Generating Economic Recovery (Tiger) grant from the US Department of Transportation. Other funding agencies include the Federal Highway Administration, Florida Department of Transportation Local Agency Program, FIU and the City of Sweetwater.
Construction of the bridge began in the spring of 2017 and is expected to be completed in early 2019. When it is finished, the bridge will be 88m long and 33m tall. The 9.75m-wide bridge will also serve as study and gathering space.