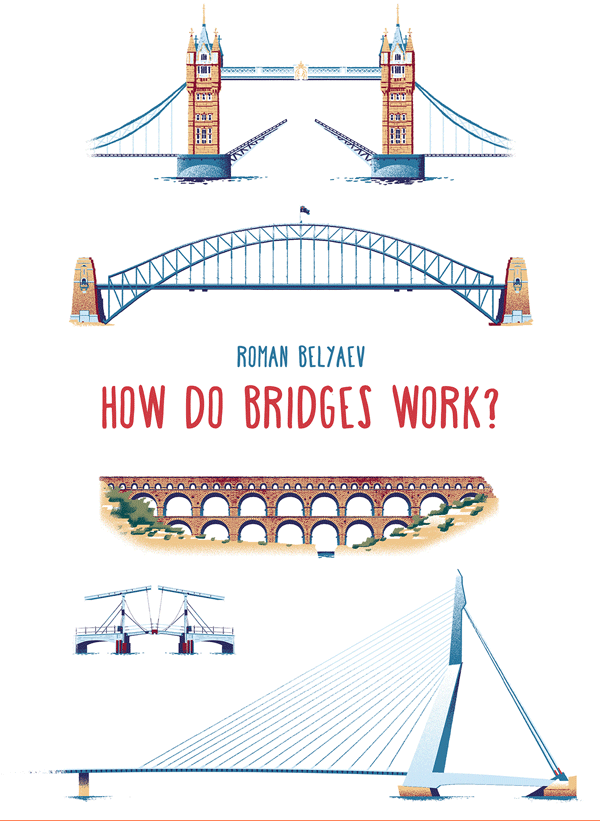 By Roman Belyaev, translated by Ruth Ahmedzai Kemp
Published by: B Small Publishing
ISBN: ISBN-10: 1911509896,
ISBN-13: 978-1911509899
Price: £10.78, US$13.92
Having previously found reading STEM books to children a rather hit-and-miss affair that more often than not descends to increasingly frenetic page-turning in the hunt for more engaging (bloodthirsty/dramatic) images, I admit that I opened How do bridges work? with no great expectations as regards its capability to hold my six-year-old's attention span or, indeed, my interest.
I am delighted to report that I was wrong, and that I should have taken better notice of the fact this book is a follow-up to the award-winning How does a lighthouse work?, which won author Roman Belyaev the inaugural STEAM Children's Book Prize last year.
The 64-page A4-sized matt book feels luxurious at the price and it has the feel of the old-style hardcover Asterix and Tintin books, but thicker. Even before the book begins proper it already seeks to engage with the reader. The front and back endpapers show a map of the world with 22 bridge 'bubbles' that pinpoint a selection of bridges notable for their typology and cultural significance — it is likely that even the youngest of readers will recognise at least one.
The double-page format is often replicated throughout the book, with many spreads answering particular questions, such as, "Why were bridges invented?", "What did the first bridges look like?" and, "What are the different types of bridge?". The double-page format provides enough space for the hand-drawn bridge illustrations to shine through, while containing enough snippets of information to keep the attention span of a child for one reading session.
The language has clearly been kept as simple as possible but nevertheless does not shy away from terms such as 'caisson' or 'sheet pile enclosure' when necessary. Technical detail is sufficiently accurate to keep the engagement alive with older readers: some sections deal with erecting piers, building piers under water, and the main construction methods for bridge decks are also explained. The bridge engineer reader could also have some fun pondering who they would have selected for the section on famous bridge builders, which features four engineers (one still alive).
How much engineering knowledge will be absorbed by younger readers is hard to tell. But I can confirm that one six-year-old enjoyed reading the book, and he now takes great relish in saying 'bridge' in German and French, and that's good enough for me.
José María Sánchez de Muniáin