Leveraging the 'a-ha' moment when young people decide to pursue a career in bridge building specifically or engineering more generally usually only comes through direct experience or the influence of a family member. In my own example, my love of construction was sparked while renovating a barn with my father.
For those not lucky enough to see the practical application either of building generally or building bridges specifically, it is crucial that governments, predominantly schools, and industry work together to facilitate this 'a-ha' moment. One response could be to create a 'toolbox of inspiration', which gradually increases in difficulty and widens its scope of materials, keeping in mind the analogue and digital aspects as well as the storytelling aspects.
The great irony is that from the very beginning, toddlers concentrate on building bridges. Building blocks, not only in the form of towers, but also bridges, can be found strewn across the floors of living rooms around the world. Marble runs, sending glass balls on a slow trajectory downwards to the 'other side', are just another version of this.
As children become older and reach an age where they feel they have 'conquered' simple building blocks, it is important to cater to their growing dexterity and reasoning so that this enthusiasm does not dissipate, either inside and outside. Go to almost any playground and one of the implicit goals is to cross to the other side by passing over, under or through obstacles.
When my sons were aged 9 and 11, we built a suspension bridge nearly two metres long out of paper clips and cardboard. The main cables themselves were made of about 50, 50mm paper clips, which were all fastened together in the same way. These main cables were supplemented by suspender cables made of 25mm paper clips and the two towers were made of thick cardboard boxes, with a gothic arch carved in the middle for the roadway. Creating this paper clip suspension bridge, defining each aspect of the bridge and what its role was, helped them see the sophistication of the structure, and to compare it to the basic beam bridge that they had known when they were much younger.
And as children become teens, vocabulary must also play a role. Given that children can soak up concepts and language far quicker than adults, sharing basic vocabulary such as abutment, cable, girder, compression and so on, will help reinforce what they have experienced directly in the building process. Repetition of these terms — rarely do we learn concepts in a single interaction — is crucial to ensure the experience and terminology is deposited in the long-term memory.
The addition of the elements is also crucial, particularly for a bridge made of paper clips. Applying wind from a hair dryer or slowly shifting the table on which the bridge sits, can help to demonstrate how bridges react to, and resist the elements, and can help introduce concepts such as torsion. With the ubiquity of smartphones, recording the video and slowing it down can serve as a way for children to fully understand the forces at play.
Similarly, engineering programmes around the world organise contests to see which school can build the strongest bridge out of spaghetti, wooden skewers or lollipop sticks. While the inevitable result is a failed bridge, the contests themselves serve as a way for young engineers to not only be inspired, but to put into practice what they have learned during their studies.
The proposed Bridge Museum intends to play a role in educating children about the opportunities that exist for them to pursue a career in bridge engineering. Its mission is to inspire the world's future bridge builders, and to realise its vision of a more connected, less polarised society. The museum's chosen path is a six-month proof of concept exhibition in 2019 in Oakland, California (more below).
In that sense, we hope to play a role in creating an inspirational and theatrical experience for visitors. Standard exhibition materials such as photos and drawings will sit alongside the 'environment' in which bridges are built. Walking through a box girder and under scaffolding which is holding up an arch bridge will help to communicate the complexity, the culture and the enormity surrounding bridges.
As girls and boys mature, so do their toys, and the teenage years are the time to take them outside to make the sector more real. Learning by doing is the best way to ensure that the theory matches the practice.
Students, working with schools, companies and local authorities, could examine the need for small-scale bridges in local parks or other public spaces. These bridges do not need to be permanent, but building a temporary, small-scale suspension bridge of 6-9m long, or an arch bridge on a footpath or as part of an outdoor climbing facility would move the theoretical inside to the practical outside.
An actual structure exposes budding engineering students to the tools of the trade and introduces them to the practical insights and applications of the forces and the importance of maintenance; should they be involved in the design, they will also benefit from hands-on experience in CAD software. Most importantly, it can instill a culture of safety in their work, exposure to professional engineers and ideally offer some form of academic credit as an incentive.
Companies should play more than just a peripheral role in the development of the sector's future personnel. The demand for engineers across a range of industries, not just bridge building, will remain strong. Many companies already support industry associations such as the American Society of Civil Engineers, the Institution of Structural Engineers, or their own local equivalent, which promote the industry and do have educational programmes. But any direct impact on a company will be minimal - the industry gains from this, rather than individual firms.
When companies put a bit more effort into outreach from major projects or in cities where their footprint is large — for example where their headquarters are based — they may benefit from building their brand as well as creating a pool of engaged students to draw from as future employees.
To enhance these relationships, companies sometimes promote skills-based volunteering which allow them the opportunity to work closely with a community as well as providing employees a chance to do good outside of the office.
Designing a course on the non-technical aspects of bridge building — financial, economic, aesthetic, environmental, social and community outreach — is another option. The engineering aspects are important, but this type of course can help to create empathy in an industry long dominated by reason and logic. The skill of understanding the local communities in which companies work is crucial to a project's success. Other subjects could be the creation of a community on a bridge — potentially a meeting point — and also its democratic uses for all citizens, not just cars. Finally, the aesthetics of bridge building is also important, drawing on the work of Robert Maillart, Christian Menn or a more contemporary designer such as Martin Knight.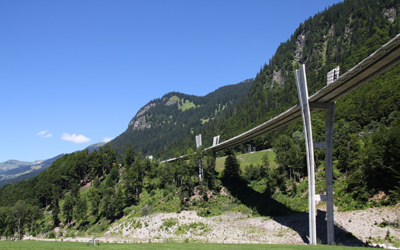 Inspiration can come from visiting bridges, such as Christian Menn's Sunniberg Bridge in Switzerland, which has a small parking area off the road from which its subtle and inspiring curve can be admired – or photographed and 'Instagrammed'
A course or series of lectures/discussions — either for academic credit or as part of a summer programme — could feature subject-matter experts in relevant departments, offering budding engineers and other interested students an introduction to the non-traditional aspects of the AEC industry. Offered with an academic partner over a string of Saturdays for two months, the course could offer a great opportunity for a community's youth (particularly at-risk youth) while providing an excellent way to facilitate skills-based volunteering.
Site visits are a crucial part of this, offering direct exposure to the importance of safety and a context within which to appreciate the real challenges, the compromises and the plethora of stories, both formal and informal about how a bridge has been constructed. Many large construction projects have visitor centres but while these are crucial, nothing beats a proper site visit with hard hat and vest for those who are keen to pursue a career in bridge building.
Perhaps most importantly, the bridges themselves must inspire and be accessible. In a world where anything is 'Instagrammable', creating a physical space where a bridge can be viewed at its most photogenic should not be underestimated. The Golden Gate Bridge is an excellent example of accessibility; not only do millions cross it on foot or bike every year, but there are several terraces where the public can stop and document their own visit. Another excellent example is Christian Menn's Sunniberg Bridge in Switzerland, which has a small viewing area off the road, with parking, from which its subtle and inspiring curve can be admired.
Bridge building is one of a handful of industries in which employees may be based on a job site for months or even years at a time. Well paid and offering exposure to other cultures and regions, it can be an attractive career, significantly more so than the extractive sector where carbon footprint and local community impact are increasingly being questioned.
The job market for bridges in the foreseeable decade is robust. While not every project will be a signature bridge, there is no shortage of smaller bridges needed to ensure continuity in our transport networks.
Those fortunate enough to be working on a major bridge have the honour of being affiliated with a project that will serve five or six generations. While government and the educational system is largely responsible for nurturing a country's future engineers, companies can play an equally important role, allowing them to simultaneously build a brand, better recruit their workforce and prosper. It is a role that they should enthusiastically undertake.
Richard Dion is executive director of the Bridge Museum
The journey to the other side
The Bridge Museum is the world's first museum dedicated to the bridge as both structure and concept. A California-based charity, its mission is to inspire future bridge builders with a vision of a more connected, less polarised society.
The Museum's advisory council includes former US Secretary of Transport Norman Mineta and Dr Steinar Bryn, five-time Nobel Peace Prize nominee, among others. With board members hailing from Arup, Thornton Tomasetti, Sony, Fileboard and the Asian Art Museum, the chosen path is a six-month 'proof of concept' exhibition in Oakland, California at a site right next to the new east span of the San Francisco-Oakland Bay Bridge.
The 370m2 exhibition will contain informative and interactive exhibits as well as a strong storytelling narrative. Its main target audience will be children aged 6-18, but it is intended to be accessible enough for a general audience.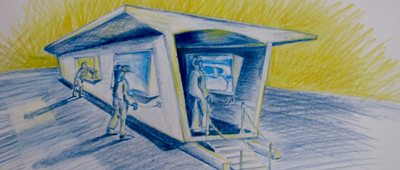 The structural aspect will address the themes of environment, materials and ingenuity, allowing visitors to understand the scope and enormity of bridges, their wide-ranging materials and the innovation that has become an integral part of their evolution. Institutions agreeing to partner with the Bridge Museum for archival use include the Swiss regional authorities, ETH University in Zurich and the Forth Bridges Forum, among others.
The initial exhibition's conceptual aspect will examine the themes of willingness, knowledge and practice, promoting dialogue and empathy with those that we may not understand as much as we could or should. The goal is to help people break out of their bubbles and equip them with the tools to promote dialogue over debate.
With its tagline — 'take me to the other side; I want to understand the other' — the museum promises to be a unique cultural institution blending the hard and soft sciences, as well as instilling a sense of empathy in a sector dominated by reason and logic.
While Oakland is the initial location, the Bridge Museum hopes to extend, expand and potentially scale the idea to other cities in the USA or indeed abroad, where its concentration of promoting STEM disciplines and social cohesion may resonate with local and regional authorities.