The Chacao Bridge will be the first fixed connection between Chile's mainland and the Island of Chiloé. Replacing the current car ferry service with the dual carriageway will reduce travel time from 45 minutes to under three.
Construction of the bridge is already under way with 11 of the 36 piles for the central pylon completed.
Cowi is responsible for the supervision and design review of the bridge, which will be built in the Los Lagos region, 1,100km south of Santiago.
It is being built in an area where a 9.5 magnitude earthquake struck in 1960 and where, in 2010, an earthquake of 8.8 magnitude struck offshore. The Gulf of Ancud Fault (FGA) also runs along the Chacao channel, directly under the bridge site.
Combining these hazards with high wind speeds of over 200km/h and strong tidal currents of 18km/h, and this location becomes one of the most challenging bridge sites in the world, said Cowi project manager Hisham Ibrahim. "Designing a structure for such a challenging environment brings with it many complications and challenges, so it is extremely satisfying to receive official approval, knowing that all the hard work will soon materialise into a finished project," he said.
The bridge will have a total length of 2,754m between anchor blocks. It will have three reinforced concrete pylons, a suspended north span of 324m, two main spans (1,155m and 1,055m) and a south approach viaduct of 140m. The bridge deck will be 23.8m wide and carry four lanes of traffic.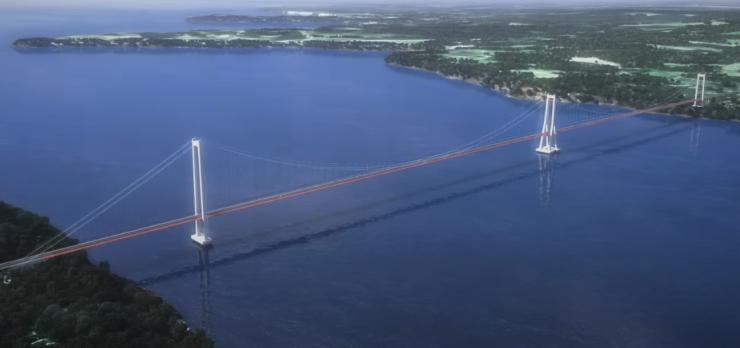 The 175m-high central concrete tower will be built on Roca Remolinos - a small reef in the middle of the channel.
Contractor for the scheme is Consortium Puente Chacao (CPC), consisting of Hyundai, OAS, Systra and Aas-Jakobsen.