Aecom Canada will design the new deck under a contract worth US$1.47 million. The project covers replacement of the lift span's deck, restoration of the approach spans and widening of the sidewalk areas to allow more space for pedestrians and cyclists to cross safely while also improving traffic flow.
The work is intended to extend the life of the bridge by approximately 50 years for both the deck and sidewalk, and about 30 years for the approaches.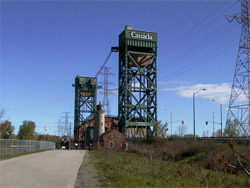 The Burlington Canal Lift Bridge is located on the western shore of Lake Ontario. The lift span is 116m long, weighs 1,996t and has a vertical lift of 33.5m. It is the sixth moveable bridge to have been located on the site since the first was built in 1830, shortly after the canal opened. The current bridge was opened in 1962 and originally carried both trains and vehicular traffic. The rail tracks were removed in 1982 and roadway was widened from two lanes to four.
Since its installation, the bridge has been operated in excess of 200,000 times, allowing the passage of over 400,000 vessels. Each year, it operates approximately 4,000 times, allowing some 6,500 vessels to pass through the canal.
Public Services and Procurement Canada (PSPC) plans on awarding a construction contract by late summer 2022, with construction anticipated to begin in winter 2023, for completion by summer or autumn 2024.