The proposal has been developed by Foster & Partners and further advanced in partnership with bridge engineers from Cowi. It would involve building the temporary double-decker crossing within the existing structure, which has been closed on safety grounds since 13 August this year (link opens in new tab).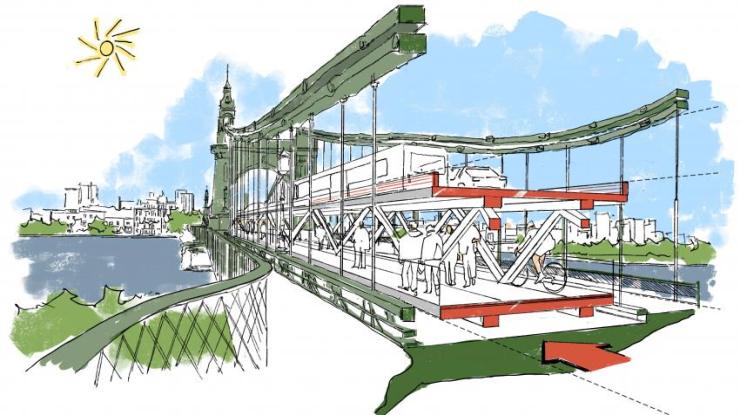 Initial estimates suggest that the temporary crossing would allow the strengthening and stabilisation works to the 133-year-old heritage bridge to be completed at a cost lower than the current US$188 million estimate.
Sir John Ritblat of Delancy was approached for assistance by Hammersmith & Fulham Council's leader following the bridge's closure. He then approached Foster & Partners to develop an alternative proposal for the bridge.
The council's leader, Stephen Cowan, has now outlined the details to transport secretary Grant Shapps and urged the government to give the proposal full consideration.
The proposal envisages pedestrians, cyclists and, potentially, motor vehicles being able to use the bridge during its repair and restoration. A new raised truss structure would be built above the existing road deck, with a lower level for pedestrians and cyclists and an upper level for cars and buses.
Foster & Partners said that the raised deck would enable existing approach routes to be used, causing minimum disruption for residents on both banks of the river. The structure would also provide support for the bridge as well as a platform for restoration work to be carried out.
The new truss structure would be assembled in two halves and launched from each side over the existing road surface. It will be supported on each bank and at the two existing piers. As a result, there will be no added load on the existing bridge deck, said the team.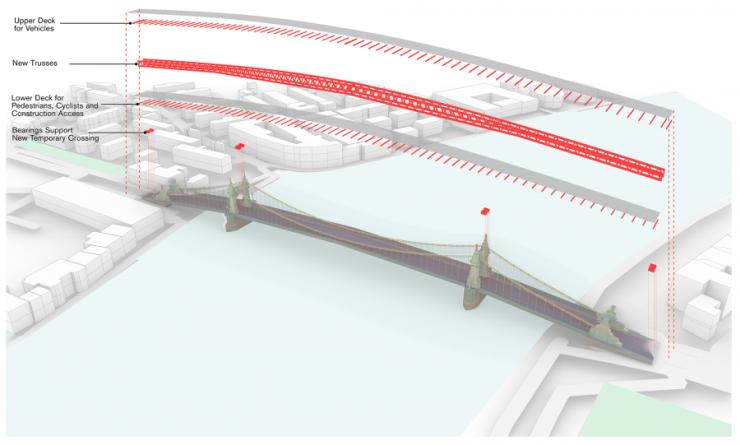 Elements of the Grade II* listed bridge that need repair, including pedestals, anchors and chains, would be lifted away and transported by barges to an offsite facility for repair and restoration.
Contractors would use the new lower pedestrian deck to access the works. When completed, the temporary raised deck would be removed.
Luke Fox, senior executive partner at Foster & Partners, said: "We are excited to propose this simple solution to what is an important missing piece of London's infrastructure that also gives the opportunity to bring back to life a beautiful and iconic bridge by Sir Joseph Bazalgette."
Roger Ridsdill Smith, head of structural engineering at Foster & Partners, said: "We believe that our concept resolves the two challenges for Hammersmith Bridge economically and efficiently: delivering a temporary crossing quickly, whilst providing a safe support to access and refurbish the existing bridge.
"We appreciate the engagement and contribution from the technical experts and committees in charge of the bridge and look forward to further studies to develop the scheme."
Cowi executive director David MacKenzie said: "We consider that this approach is practical and viable. Our experience is that offsite refurbishment of bridge structures is safer and more controlled, and results in a higher quality final outcome when the structure is re-installed."