Last week's trial inspection of the Delaware Memorial Bridge Twin Span was carried out by Keystone Aerial Surveys in cooperation with WSP/Parsons Brinckerhoff.
Unmanned aerial vehicles (UAVs) are seen as having the potential saving considerable money, as the annual inspection costs of DRBA's bridges can exceed US$500,000. The use of drone technology may also enable inspections to be carried out in less time, at better quality and with significantly reduced lane closure requirements, said DRBA.
The trial involved the use of Inspire Pro 1 and Maverik X8 drones to inpect the New Jersey side of the bridge complex as a test of the technology.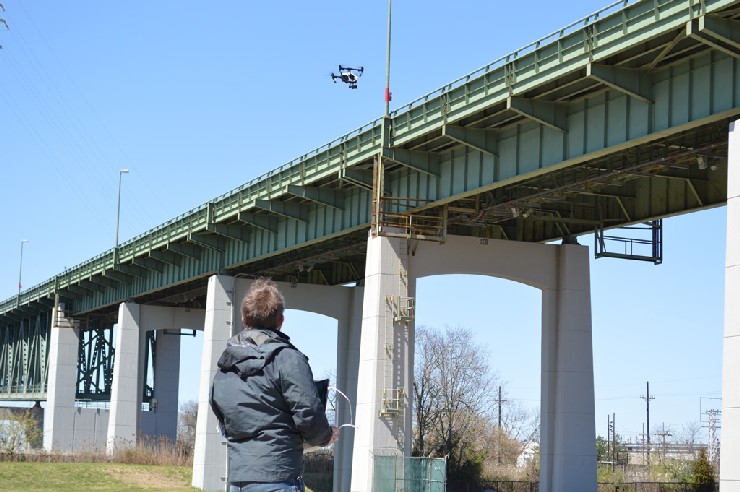 "The Delaware Memorial Bridge Twin Span is subjected to a rigorous inspection programme every year," said DRBA project engineer Shekhar Scindia. "Drones have the potential for making bridge inspection operations significantly safer and more cost efficient." He added that the annual inspection costs of the Authority bridges can exceed US$500,000
"We are pleased to able to work with the DRBA on this project," said Keystone Aerial Surveys executive vice president David Day. "We feel confident that our technology can be used to improve and enhance their regular bridge inspection processes."
This inspection tested the viability of using drones to inspect areas of the bridge that are hard to access. The drone obtained video and still imagery within a concrete anchorage, externally of a concrete pier, and of the bridge's steel cable and superstructure. The DRBA will assess the relative quality of the data recorded and the operational conditions, compared to traditional methods.