Welding of deck units on the new Halogaland Bridge on the E6 highway near Narvik in Norway has now started after the last of the 30 segments were raised into position. Deck erection began at the start of September and was completed last week. Each segment is 40m long; all but three of the segments weigh 250t, with the remainder weighing 160t each.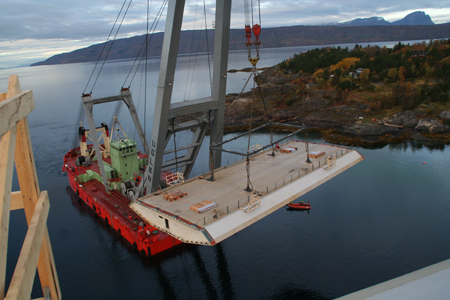 First segments were erected at mid-span of the bridge, then alternating from one side to the other until the deck reached the bridge towers.
The superstructure of the new bridge, which has a main span of 1,145m and a deck just 18.6m wide, is being built across the Rombak Fjord by Sichuan Road & Bridge Group, which won the contract for the steel supply and construction. Completion of the bridge is currently estimated for summer 2018.
Design of the bridge is by Dissing & Weitling and Cowi, for client Statens Vegvesen.