The US$192 million Swan River Crossings project will see the delivery of new bridges for rail and road traffic.
The project is aimed at transforming a key gateway into Fremantle and is part of a revitalisation of waterfront precincts.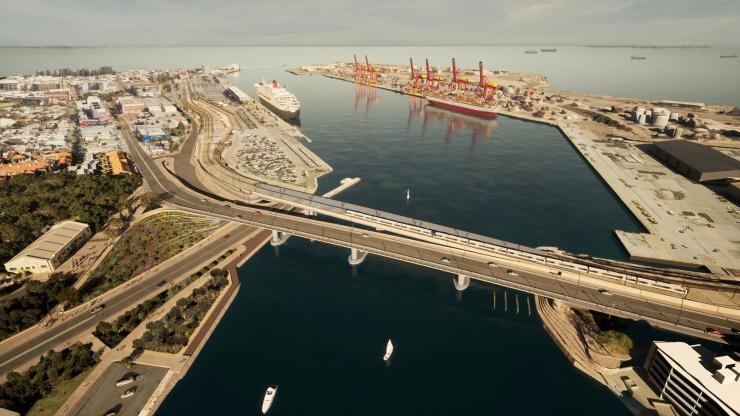 The project is being carried out by the Fremantle Bridges Alliance (FBA), which is responsible for completing the design as well as building the new infrastructure. The alliance is made up of Main Roads Western Australia, Laing O'Rourke Australia Construction, Arup Australia and WSP Australia.
Federal infrastructure, transport, regional development and local government minister Catherine King said: "The Swan River Crossings project will replace the Fremantle Traffic Bridge, improve cycling and pedestrian paths, increase passenger and freight rail capacity, and improve navigational safety for river users. Our commitment to investing in transport infrastructure will provide opportunities for local business and create local jobs."
Western Australia transport, planning and ports minister Rita Saffioti said: "The Swan River Crossings project has been talked about for many years and we are now well on the way to delivering a project where community input has clearly influenced the outcome. It is very exciting to see a design that responds to the community's aspirations for more open spaces and considered urban design.
"This concept design will allow for traffic to flow more freely into Fremantle and create better connections to precincts, such as Victoria Quay and the Fremantle Fishing Boat Harbour, where significant redevelopment planning is under way."
Federal member for Fremantle Josh Wilson said: "The new Fremantle bridge is a once-in-a-century project with multiple benefits. It will ensure that road, rail, pedestrian, and cycle traffic flow more smoothly, and the surrounding area will be revitalised with more space and better access around heritage places like Cantonment Hill. This major project will create easier, safer, and more spectacular journeys for people, bikes, boats, and commuter traffic.
"As the Swan River Crossing project moves into the next phase, I also look forward to the opportunities it will create for local employment and businesses."