Visualisations of the infrastructure elements are part of a larger project implemented by the project's developer RB Rail in partnership with an Italian architectural and design company 3TI Progetti. During the project, 3TI Progetti developed architectural, landscaping and visual identity design guidelines for the entire Rail Baltica network. The guidelines are aimed at providing a harmonised approach to infrastructure across all three Baltic states – Estonia, Latvia and Lithuania - to be served by the new network. The overall project also includes Poland and, indirectly, Finland.
Rail Baltica has published visualisations showing the design of pedestrian overpasses and tunnels, noise barriers, fences, animal passages, embankments and cuts as well as regional stations.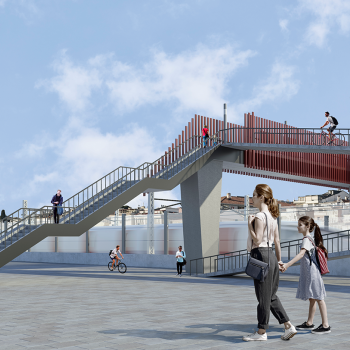 Agnis Driksna, acting CEO of RB Rail, said: "Architectural and visual guidelines aim to provide railway designers and architects with clear instructions on how to ensure a common identity to all the elements of the railway network.
"It was a challenging task, but we have managed to align different expectations and ambitions of each country into a common approach which defines the identity of the Rail Baltica network."
Estonia's main terminal for the project doubles as a bridge. The winning design was chosen in early November (link opens in new tab).
Bridges will also feature in the design of Rail Baltica's second international passenger terminal in Estonia.
Structural engineering consultancy Pluss OÜ was appointed in late November to oversee the design of the Pärnu international terminal.
The main building will be located above the platform and connected by elevated walkways.