The bridge is officially called the Inner Harbour Bridge but its nickname comes from the "kissing" of its movable bridge parts when its navigational span closes.
The 180m-long pedestrian and cycle bridge came into use a few weeks before the official handover. Construction had started in 2011 and it had originally been intended to open in 2013, but suffered delays.
"The varying geometry and support conditions, as well as the interaction between the steel and concrete structures, makes the bridge a very complex design and it faced many different challenges – from the bankruptcy of the entrepreneur to flooding of the engine room and a few operational issues," said Flint & Neill director Ian Firth. "To see the beauty and functionality of it today and to realise that many Copenhageners and tourists have been quick to adopt the bridge and appreciate the efficient connection between the vital areas of the city, is a great joy.
Flint & Neill was the design team lead and carried out the structural engineering design. Architect for the bridge was Studio Bednarski and Hardesty & Hanover was responsible for the mechanical and electrical engineering design. Cowi provided local client liaison and engineering support.
Innovative features include the sliding span. The bridge is a series of hollow boxes - the middle part is a hollow steel box that slides backward and forwards between the outer parts. This was only possible because the width of the harbour is much greater than the width of the navigation channel, which provided enough room for the steel spans to pull back out of the way when ships pass by. The two moving steel sections are 8m wide.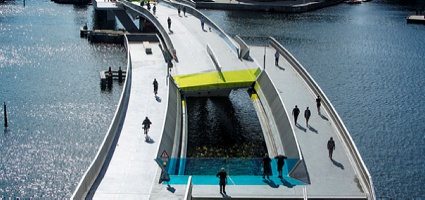 Other noteable features include the use of thin steel plate, which is only 10mm thick in most places but it has stiffeners inside to stop it from bending and buckling under load.