The bridge is the centrepiece of the East End Crossing, which together with the Downtown Crossing, makes up the Louisville-Southern Indiana Ohio River Bridges scheme. The Downtown Crossing's Abraham Lincoln Bridge opened last year.
The 762m-span cable-stayed Lewis & Clark Bridge has two diamond-shaped piers rising 91m above the Ohio River.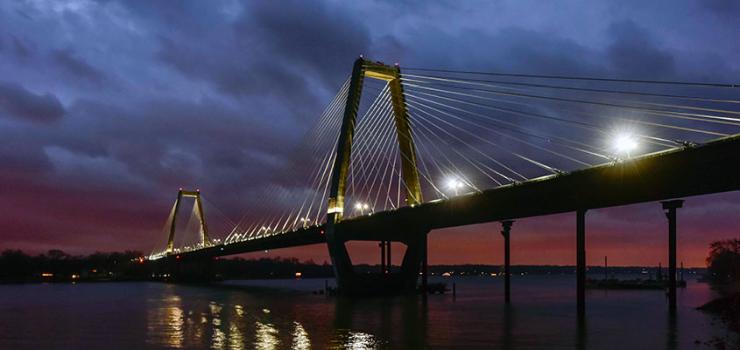 The 12km East End Crossing project - which also includes associated roads and a section of tunnel - has been built under a public-private partnership contract with a value of nearly US$1 billion, signed in March 2013 by Indiana Finance Authority and the concession company WVB East End Partners. The concessionaire is made up, in equal shares, of Vinci Highways, Walsh Investors and Bilfinger PI. Design and construction work carried out by a joint venture made up of Walsh Construction (60%) and Vinci Construction Grands Projets (40%). A concession consortium led by Vinci Highways is responsible for operation and maintenance of a major portion of the infrastructure for a period of 35 years.
WVB East End Partners project director Rob Morphonios said that the project team attracted hundreds of locals and those from other parts of the country and the world, himself included. "Everyone brought certain skills or areas of expertise and worked together and look at what they've done," Morphonios said. "The success here shows what can be achieved when you have a lot of different people, with different backgrounds, and different ideas and skills to offer. When they all work together, they can accomplish amazing things."