Illuminated River is a public art commission designed to light up to 14 bridges along the river through the centre of the UK's capital. It has been created by artist Leo Villareal in collaboration with architect Lifschutz Davidson Sandilands.
The second phase of starts on site today – 17 July - on the anniversary of the completion of the first phase of four bridges. The site works will extend the light artwork to include an additional five bridges, from Blackfriars in the east to Lambeth Bridge in the west. The lighting for the five - Blackfriars Road Bridge, Waterloo Bridge, the Golden Jubilee Footbridges, Westminster Bridge and Lambeth Bridge - is due to be unveiled in spring 2021.
The Illuminated River Foundation accelerated site surveys before Covid-19 forced the closure of construction sites, ensuring that design, fabrication and planning of the second phase could progress as lockdown took hold. The contractor for the work is FM Conway.
Deliveries to the bridge sites during the second construction phase are being made by cargo delivery bikes in order to reduce pollution through vehicle emissions and to minimise road congestion,
The latest phase will see Westminster and Lambeth Bridges given washes of green and red light respectively – an allusion to the colour code of benches in the historic debating chambers of the Houses of Commons and Lords.
Below: How Westminster Bridge will look (artwork © Leo Villareal Studio)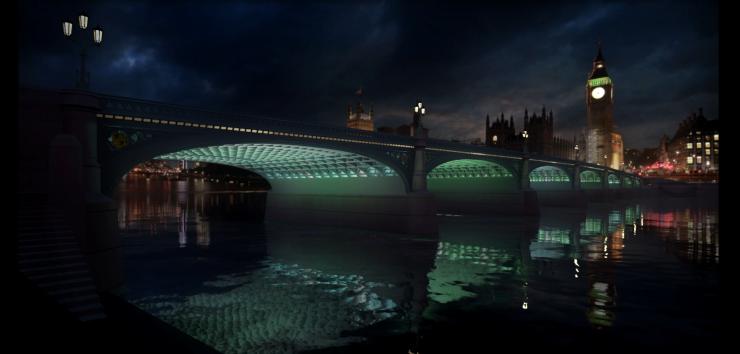 The contemporary spans of the Golden Jubilee Footbridges (below) will have subtly moving monochromatic lighting (artwork © Leo Villareal Studio).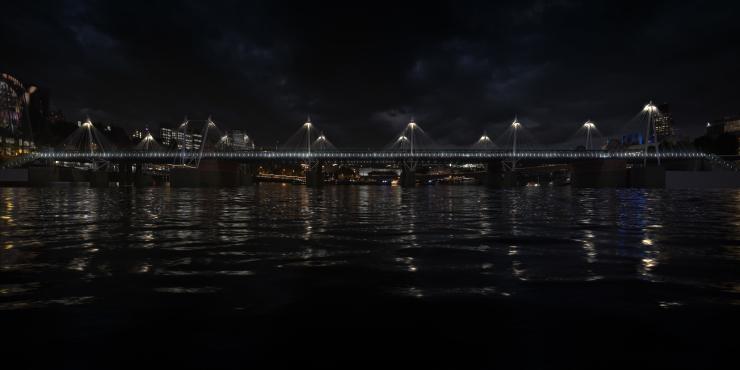 In contrast, Waterloo Bridge, opened in 1942, is conceived by Leo Villareal as a focal point for exploring colour palettes represented in paintings of the Thames by American artist James Abbott McNeill Whistler and Impressionist and English Romantic artists including Claude Monet.
The wrought-iron arches of the 1869 Blackfriars Road Bridge will be lightly accented in a slowly evolving warm colour palette.
In the first phase, London Bridge, Cannon Street, Southwark and Millennium Bridges were illuminated (see photograph below, © James Newton).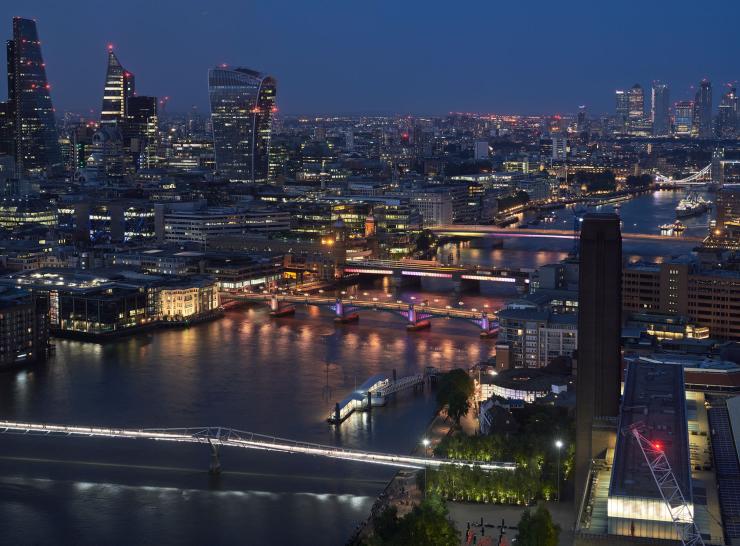 Justine Simons, deputy mayor for culture and the creative industries, said: "The Illuminated River has been a fantastic addition to our city's rich history of free and accessible public art. It has helped Londoners and visitors to the capital to see the river in a new way, lighting up our unique bridges and celebrating its huge impact on our lives. It's great news that work is now beginning on lighting up more bridges for everyone to enjoy."
Below: overview of how the completed project will look (artwork © Leo Villareal Studio).