Waka Kotahi NZ Transport Agency said that Onetai Bridge might reach just 9m over a tiny stream, but its upcoming replacement marks a giant leap in bridge design. The bridge is about halfway between Paeroa and Kopu on State Highway 26.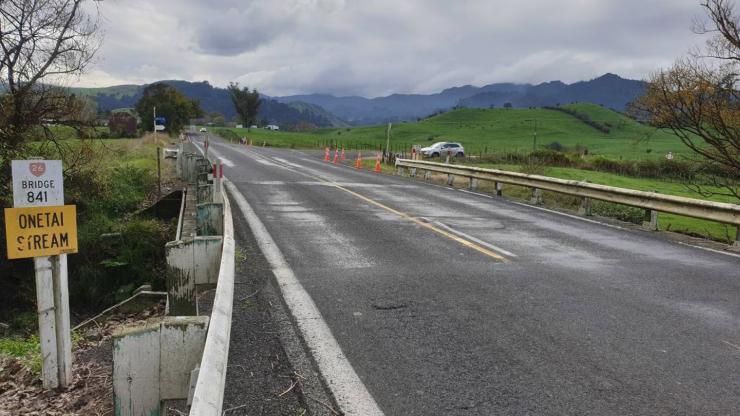 The timber elements of the new design that make the project more than just a run-of the-mill replacement, said Waka Kotahi regional manager maintenance and operations, Rob Campbell. "Road bridges in Aotearoa New Zealand are generally built with concrete or steel. Onetai will be the first to mark a return to more sustainable design, with timber beams and deck.
"We're hoping to make this the new norm, so while it might seem like a minor project, it marks a ground-breaking shift in design for bridge replacements on state highways."
Campbell said that it all comes down to the magic of layering – using the engineered timber product glulam, which is made from layers of wood glued together. He said that glulam has twice the strength per kilogram compared with steel, and is specially designed to be hard-wearing and durable.
"The new Onetai Bridge is designed to last at least 100 years, linking the greater Waikato region with the Coromandel Peninsula, and providing a small but vital part of our state highway network," he said. "The replacement will add to the resilience and safety of this route, as the new design will be stronger and wider than the old bridge."
He added: "The first and most obvious benefit is that glulam's main component, pine wood, is grown right here in Aotearoa and therefore does not need to be mined or go through the high energy manufacturing processes needed to make steel and concrete.
"New Zealand glulam is made from responsibly-sourced Radiata Pine, and actually has a negative carbon footprint during the production phase. This is because the trees have absorbed carbon dioxide from the atmosphere during the 30 to 40 years they take to reach maturity, and new growth starts that process all over again."
Campbell expects the glulam to last for decades with a minimum of maintenance, and said that it can absorb energy effectively from earthquakes and also has good fire resistance. "It might seem that wood would pose a fire risk, but large-section timber in fact performs very well in fires, because timber chars at a known rate and does not deform like steel," he said. "One of the key benefits of a timber structure is its light weight. This means we can significantly reduce the size of foundations which in turn cuts down on carbon, material costs and construction time."
The new Onetai Bridge will be the same length as the old one, but will be 3m wider, and have extra safety features. These include a new type of side barrier that can be fitted right to the outside edge of the bridge, giving drivers more lane space and helping reduce the risk of head-on crashes.
The bridge will have simple concrete foundations, and new scour protection both upstream and downstream.