Queenstown Lakes District Council, Waka Kotahi NZ Transport Agency and Otago Regional Council carried out consultation in July and have now announced their preferred option. The plan is intended to provide better access for walking and cycling, ensure capacity for future growth, improve general safety and resilience for the wider transport network and complement the existing Edith Cavell Bridge.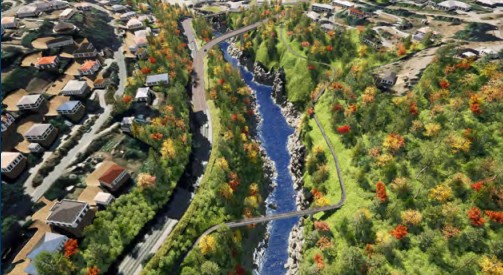 There would be a new two-lane road bridge approximately 100m downstream from the existing bridge. A separate walking and cycling bridge, and connecting trail, would be built approximately 400m downstream from the existing bridge.
The Edith Cavell Bridge would be closed to traffic but retained for recreational walking and cycling use.
The proposed road bridge would be designed to encourage slow vehicle speeds and have two 3.5m wide lanes with 1.5m wide shoulders on each side. It will be visible from the Edith Cavell bridge, but will be designed to complement the existing bridge and not dominate the landscape.
Due to funding constraints, it is not likely that the new road bridge would be constructed for at least 10 years. However the new walking and cycling bridge can be implemented earlier.
The heritage status of the Edith Cavell bridge, and the community's desire to protect it, discounted temporary solutions such as clip-on structures. Mixed feedback was received about putting traffic lights on the existing bridge, though many acknowledged that they may be needed if traffic volumes increase.