James Fisher Testing Services has been commissioned to install its Bridgewatch SHM system. The contract for the Chambre de Commerce et D'industrie Territoriale Seine Estuaire (CCITSE) involves fitting the system to two cable-supported bridges - the Pont de Normandie and the Pont de Tancarville - together with a rigid steel framed bridge over the Grand Canal Viaduct, Pont sur le Grand Canal du Havre.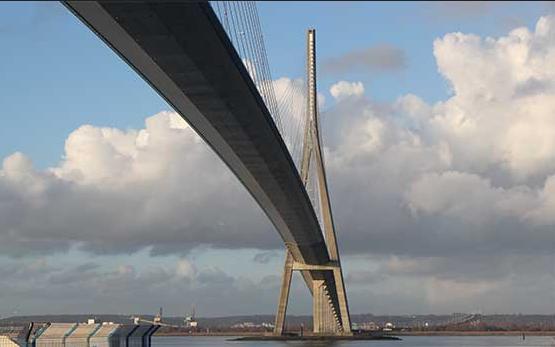 Problems associated with an existing system that had been installed by another SHM provider highlighted the need for a solution that could analyse large volumes of raw data and provide detailed analysis on structural condition, said JFTS. The project will upgrade and in some cases replace existing instrumentation and data acquisition hardware.
Data from each bridge will be managed by the cloud-based JFTS Bridgewatch system.
JFTS managing director Alex Campbell said: "The key benefits are the integration of data from multiple sources into a single system and then the way it can process data on a scale unlike any other. This will provide the basis for CCITSE to make informed decisions regarding asset management strategies."
Bridgewatch will integrate all data outputs and provide real-time data processing, together with automated and event-driven reports and alerts on bridge performance. The resulting insights will be used by CCITSE for day-to-day maintenance management. Data will also be analysed by engineering consultancy Cowi to offer insights into the condition of the three bridges and deliver long-term strategies to optimise structural performance.