The new 'flexible bridge' technology being used on the Washington State Department of Transportation (WSDOT) project combines memory-retaining metal rods and a bendable concrete composite.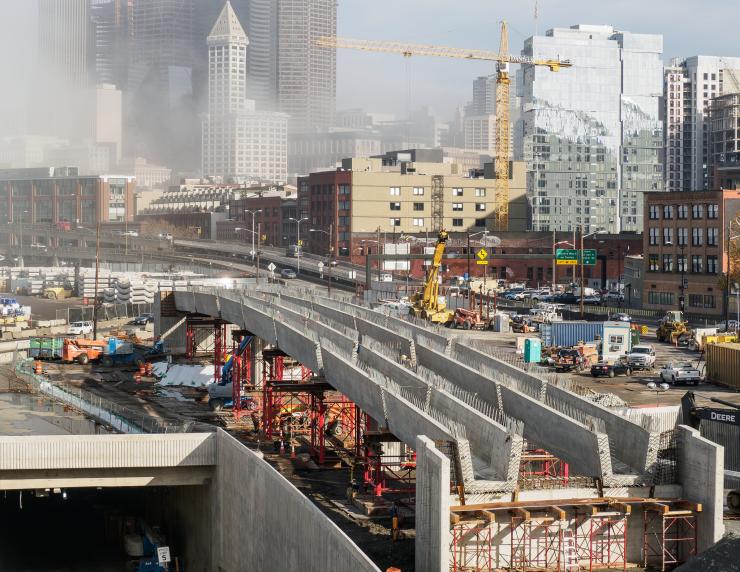 This pilot project is the first real-world test of 15 years of research inside the Earthquake Engineering Lab at the University of Nevada, Reno. WSDOT has been long-time partner of the university in researching materials to improve construction in earthquake-sensitive areas.
The future northbound SR 99 off-ramp to South Dearborn Street was chosen partly because it is a small bridge. The shape metal alloy and cement composite only replace a small portion of the regular steel in the bridge, keeping overall costs reasonable. These specialized materials are up to 90 times more expensive than standard steel and concrete, said WSDOT. The Federal Highway Administration gave the go-ahead for the test, and a federal grant paid for much of the additional costs.
Memory-retaining rebar, called shape memory alloys, and bendable concrete composites are not new materials. However, the combination of the two materials allows the bridge columns to return to their original vertical position after an earthquake, said WSDOT.
In earthquake lab tests, bridge columns built using memory-retaining nickel/titanium rods and a bendable concrete composite proved more flexible. The columns were able to return to their original shape after an earthquake as strong as a magnitude 7.5.
"This is potentially a giant leap forward," said Tom Baker, bridge and structures engineer for the Washington State Department of Transportation. "We design for no-collapse, but in the future, we could be designing for no-damage and be able to keep bridges open to emergency vehicles, commerce and the public after a strong quake."
Titanium spectacle frames illustrate how memory-retaining rebar works. The frames are built to bend and twist, but always return to their original shape. Large diameter nickel/titanium rods engineered for bridge construction behave much the same way, but on a much larger scale.
The bendable concrete also moves with the memory-retaining rebar in the column. Unlike standard concrete, the engineered composite contains tiny synthetic fibers that keep concrete damage to a minimum when it moves.
The off-ramp is currently under construction and scheduled for completion in spring 2017. After the new SR 99 tunnel opens, the ramp will take northbound drivers from SR 99 to Seattle's SoDo neighbourhood.