Skanska, which is working in partnership with Network Rail and HS2, installed the single-span bridge in an operation that took just under three hours to complete.
The bridge was pre-assembled in a compound adjacent to the existing railway lines before 18 self-propelled modular transporters (SPMTs) moved the structure into place. Skanska said that constructing the bridge on site reduced carbon emissions and cut the number of lorry movements on local roads, therefore minimising the impact on the local community.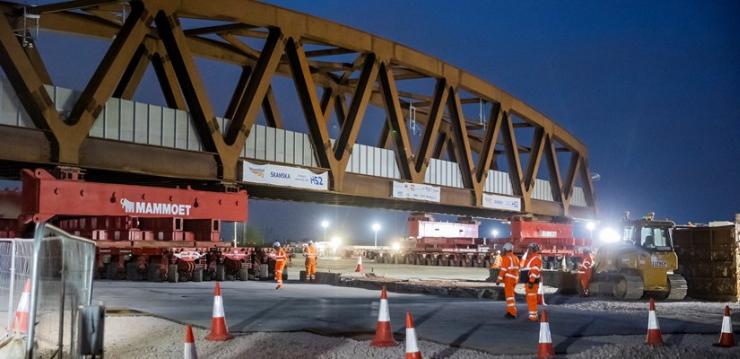 Patrick Cawley, director for 'On Network Works' for HS2 and Network Rail, said: "Moving this 2,600-tonne bridge into place was no mean feat and the new structure will ensure Britain's new zero-carbon, high-speed railway HS2 works in harmony with the existing rail routes into the second city.
"Huge amounts of planning and effort went into this complex bridge move and I'd like to pay tribute to all of those who've worked so hard to bring this impressive structure to Birmingham's skyline."
Rosario Barcena, Skanska Rail programme director, said: "This is a significant milestone on the project that will improve connectivity and pave the way for the HS2 route into Birmingham city centre. It's been a complex project from a design and engineering perspective but thanks to the collaborative approach, involving Network Rail, HS2, our supply chain and local community, we have achieved this successful outcome. I would like to thank all of the teams who have played an integral role in making this happen."