Four lanes on the bridge's centre span have been closed since two trucks were blown over by 127km/h wind gusts on Friday morning, causing significant damage to the bridge superstructure.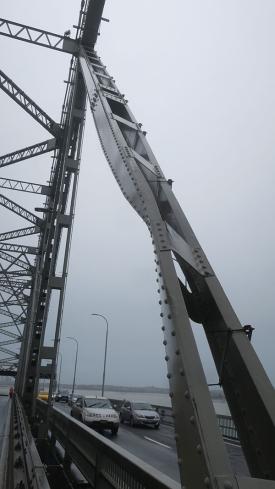 The impact damaged a load-bearing upright strut of the bridge over-arch. "The upright strut is fixed to the bridge top and bottom with a series of bolts," said Waka Kotahi New Zealand Transport Agency senior journey manager Neil Walker. "These bolts have sheared off and left the strut detached at the bottom. The strut is bent and twisted at the point it was hit."
Waka Kotahi general manager transport services Brett Gliddon said that bridge engineers are making great progress on both a temporary and permanent solution to fix the bridge damage, even though it is a very complex process.
"Waka Kotahi is now confident it has a temporary solution to repair the damaged strut which will allow one extra lane in each direction to be opened on the centre span of the bridge," he said. "This is a complex undertaking and has never been done before so the bridge team must do extensive testing on the bridge before opening it up to live traffic. This includes mathematical peer review by independent experts which we are doing in parallel to the construction of the temporary piece.
"Once the temporary fix is in place there will be real life testing with heavy vehicles to ensure it performs to the design specifications and requirements. Only then will a final decision be made about whether the temporary fix is suitable to allow the re-opening of additional lanes."
In parallel, the team is working on a permanent repair of the damage.
The north and southbound clip-on lanes continue to be safe to use as they have their own supporting structure.