The Totem Lake Connector Bridge project is designed to provide a safe and alternative route for pedestrians and cyclists to cross one of the city's busiest interchanges.
A design team of Cowi and VIA Architecture developed various concept designs, which were then put out for consultation. The chosen skipping stone design has a series of inverted and conventional arch spans to carry users across the intersection.

In the loop ramp on the approach to the bridge, the tie-chords become edge beams spanning between Y-shaped piers spaced evenly through the curve.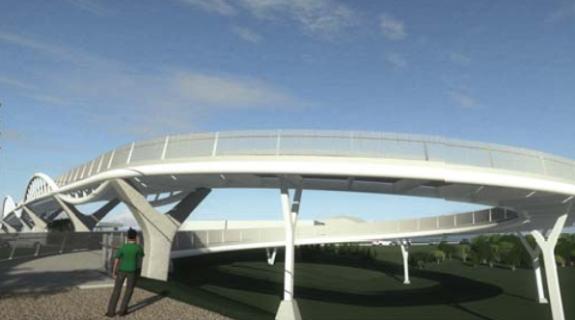 The design is described as having a strong fluid form that engages the connection between Lake Washington and Totem Lake.

The skipping stone was one of four alternatives explored by the team.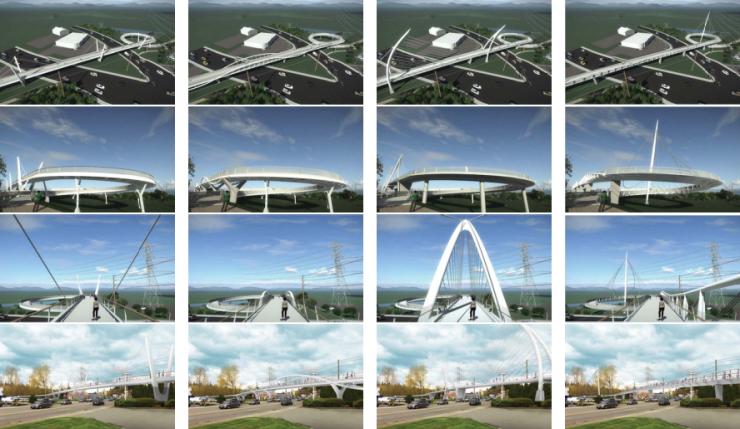 Berger Partnership was asked to review the concepts. Of the skipping stone, it said: "The structural truss, while less high and visible from afar, can be every bit, and perhaps more, of an icon for the Totem Lake Connector. It is unique to its place, with a rich and very honest design. The truss "skipping" above the deck as it crosses 124th helps to buffer and 'introvert' the experience of crossing the street, which is positive. The eastern ring, while structurally simple, works well and is interesting to pass under as the spiral connects to grade. The skipping stone design appears to be nicely flexible to accommodate an on-grade fill approach from the west."
The design team's '30% design' of the preferred alternative is due for submission next month and the design is scheduled to be completed in March 2018. Kirkland plans to issue a call for proposals in May 2018.