The pin is in the the rod end assembly, forming part of the lifting mechanism on the Hamworthy side of the six-year-old bridge in Poole, England.
It needs to be removed as part of the ongoing investigation work (link opens in new tab).
A special jig has been manufactured to allow a powerful hydraulic jack to extract the pin to enable engineers to identify the parts that need replacing. "We have been working closely with specialists from across the UK, but have so far been unsuccessful in removing the pin," said Poole Borough Council. "We will now review all the information gathered over the last few days and share with further specialist engineers arriving next week. We will use all the expertise available to develop a solution to overcome this issue and a programme to carry out the repairs as soon as possible."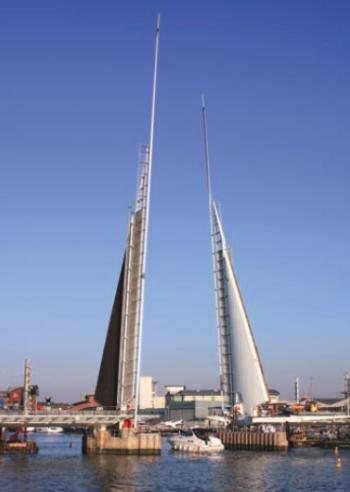 In the meantime the bridge will be left in its raised position; a traffic diversion is in place.
Borough of Poole head of growth and infrastructure Julian McLaughlin said: "Whilst it is frustrating that the removal of the pin is causing some issues, this is a very complex engineering project and we have the best experts from across the country working with us to identify the way forward to avoid further damage to the bridge. We are making every effort to ensure the crossing is operational and reopened to road users as soon as possible."