More than 1,000 tonnes of structural steel will be required to build the pedestrian bridge, with about 800 tonnes of temporary steel used just to secure and construct it.
Destination Brisbane Consortium project director Simon Crooks said the current assembly of the bridge sections is making the Neville Bonner Bridge a permanent and standout feature of Brisbane. "Fitzgerald Constructions has safely secured the crown of the arch in place using a scaffolding platform that will remain until the bridge reaches the mid-way point, early in 2022," he said.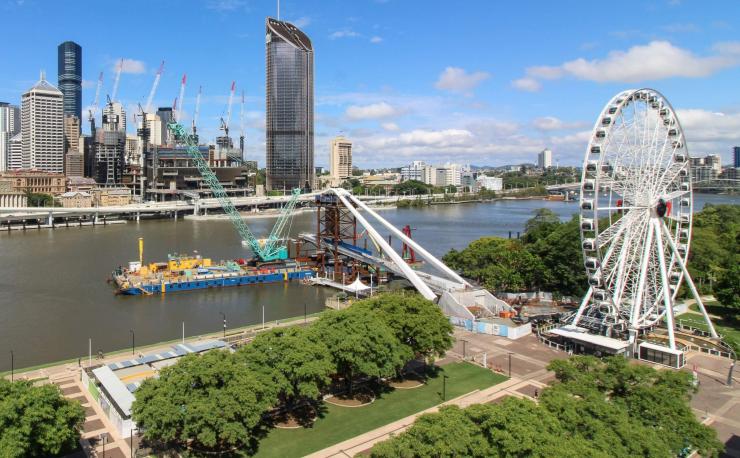 "The crown is pivotal in providing the balance and strength of the cable stays and suspended structure of the pedestrian bridge," he added. "At 60 tonnes in weight, the crown incorporates fixing locations for the six cable stays that support the bridge deck below between the landing abutment at South Bank and the mid-river pier. Not only do they support the bridge deck below, but they also create the iconic form of the arch."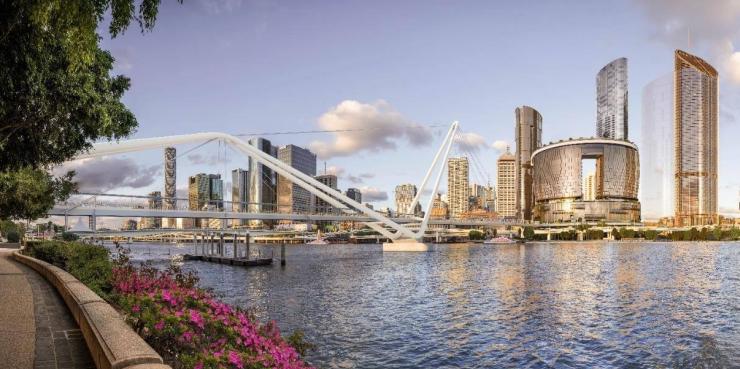 Grimshaw managing partner Neil Stonell, the bridge architect, said the bridge is an efficient, pedestrian-focused design solution. "Careful consideration has been given to how Neville Bonner Bridge will enable connection across the river and through the city, while offering a journey that celebrates the pedestrian," he said. "The narrow deck and mid-river landing create a dramatic and immersive pedestrian experience and are complemented by a continuous full-length canopy to provide shade from the hot sub-tropical sun."
WSP lead structural engineer Robert West said: "The structural form of the Neville Bonner Bridge has been driven through careful consideration of engineering, construction and architectural constraints as well as local climate considerations."
The bridge will be a focus of the US$2.6 billion Queens Wharf development. About 10,000 people a day are expected to cross the river via the 322m Neville Bonner Bridge when it opens in the first half of 2023.