Hammersmith Bridge has been restricted to use by pedestrians and cyclists since closing for renovation in April 2019, and it is still used by 16,000 people to cross the Thames by foot or bike every day. A temporary link would ensure that these users retain access while simplifying and speeding up the existing bridges' refurbishment by enabling its complete closure.

Supported by tw piers in the river, the proposed link is a prefabricated steel structure with a 5.5m-wide deck and step-free access. Shallow ramps would provide access from Queen Caroline Street on the north bank and from close to the junction of Castelnau and Riverview Gardens on the south bank.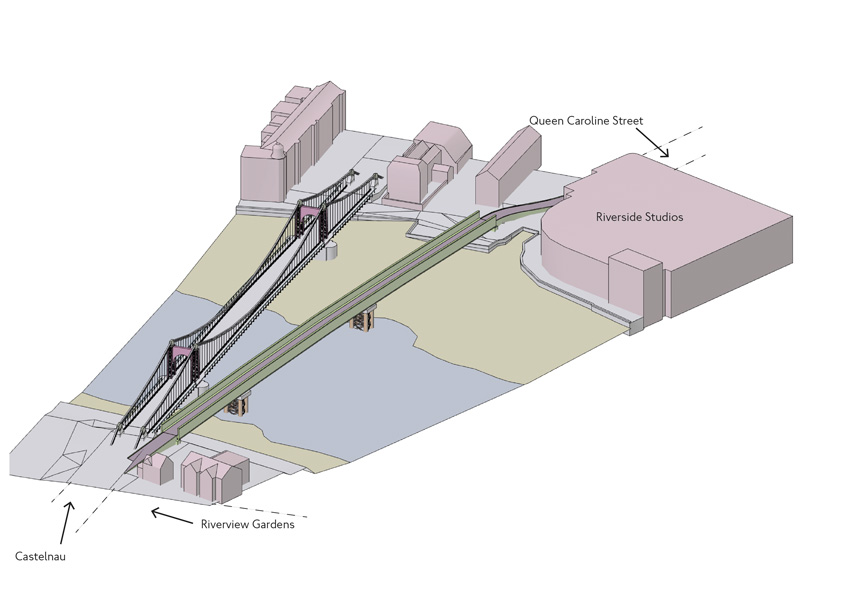 After the public consultation process, a planning application will be submitted to Hammersmith & Fulham and Richmond Councils. If given the go-ahead, work on the temporary crossing could begin in summer and be ready for use by winter.
"Hammersmith Bridge is a vital crossing and we are determined to see it brought back into use as soon as possible," Mayor of London, Sadiq Khan, told press. "This temporary crossing – which would be built by TfL –would ensure Londoners can continue to travel across the Thames on foot or by bike, while essential repairs are carried out to restore the original bridge. We are keen to hear residents' views on these proposals and hope work on this temporary bridge will begin this summer, should all the necessary consents be granted."
TfL has contributed US$32.9 million towards the projected costs of restoration and installation of a temporary bridge. Before access to the 133-year-old Hammersmith Bridge was restricted, it carried 22,000 vehicles per day and 24,000 bus users.