New York governor Andrew Cuomo took part in topping-out celebrations for the New NY Bridge this week, when the final concrete pour was carried out. The bridge is on track to open in 2018 and on budget at US$3.98bn. "Replacing the Tappan Zee Bridge with such a magnificent structure sends a powerful message to the world that nothing is too big or too difficult for the Empire State," said Cuomo. "This is one of the largest projects ever undertaken by the state of New York."
Cuomo viewed progress at the New NY Bridge project site, including the tower's construction, stay cable installation, structural steel placement and road deck installation.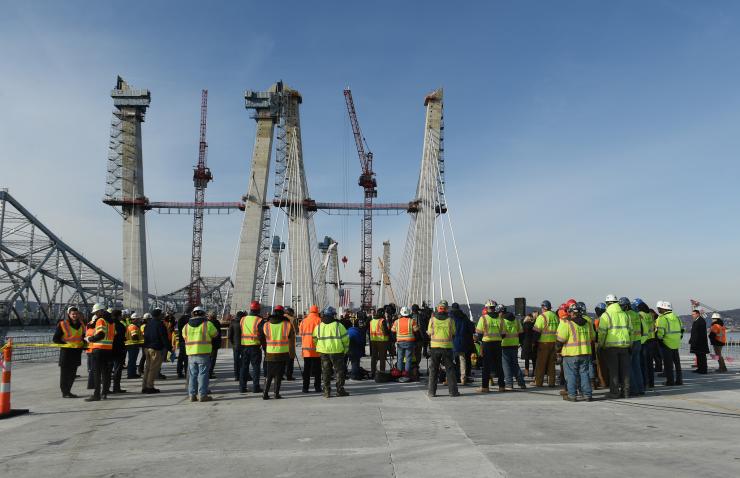 The 127.7m towers stand at a 5° angle. They are 30.5m higher than the top of the current Tappan Zee Bridge and feature a chamfered design.
Other recent milestones include the driving of the final pile into the Hudson River; more than 1,000 piles have been installed.
Cable installation is well under way, with more than a third of the 192 stay cables now fully anchored and tensioned on the main span.
The I Lift NY 'super crane' has been at work setting steel. The super crane is capable of lifting the equivalent of 12 Statues of Liberty at once and will also help with the demolition of the existing Tappan Zee Bridge.
Tappan Zee Constructors - a joint venture of Fluor Enterprises, American Bridge, Granite Construction Northeast and Traylor Brosis - is responsible for both the design and construction of the 5km bridge.
New NY Bridge project director Jamey Barbas said: "The New NY Bridge project is an exceptional engineering marvel that continues New York's legacy of building extraordinary transportation networks. The cable-stayed New NY Bridge is being built to last 100 years without needing major repairs and will include cutting-edge technology that will benefit commuters, businesses and the region into the next century."
Tappan Zee Constructors president and project executive Terry Towle said, "We are making incredible progress on one of the largest and safest construction projects in the country. This is an exceptionally challenging project. Everything is being done on a huge scale, under extreme conditions, and on tight timeframes. I am proud of the tremendous team we have working day and night keeping this project on track. Together we are building an iconic bridge that will serve this community for generations."