Structural deficiencies mean that the original pedestrian bridge over the Arkansas River cannot be salvaged.
The city initiated a public process in March 2017 to collect from the public bridge designs that could connect Tulsa's history and future while meeting a US$24.5 million budget.
Once the submission window closed for bridge submissions, the bridge selection committee narrowed down the bridge designs based on design standards, specifications and overall aesthetics. HNTB provided constructability and cost analyses.
Four bridge finalists have now emerged as potential concepts for the new Arkansas River Pedestrian Bridge and local citizens are being invited to provide feedback.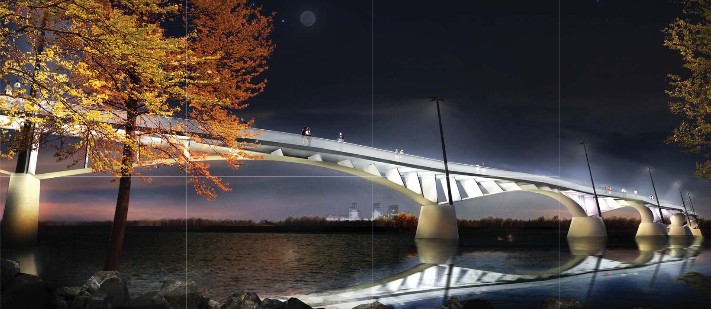 "This process has been such a strong reminder of the passion and creative talent we have in our community," said Tulsa's mayor, GT Bynum. "The selection committee had a really challenging job in narrowing the field to these four finalists. There were so many outstanding ideas, but the committee had to consider not just appearance and use, but also the construction budget we have to work with. I'm thankful for everyone who submitted a design to us, and who took the time to dream about what our city can become."
Once public comment is received, one conceptual design will be identified by the bridge selection committee and announced on 1 May.
Bynum added, "Moving ahead, it is exciting to think about Tulsans enjoying their city on any one of the four finalists. We hope the strong level of community engagement we've seen so far continues through the public comment period. Ultimately, this is Tulsa's bridge and we want the final concept selected to be Tulsans' vision of what our iconic bridge should look like for years to come."
Last year, local people passed 'Vision Tulsa', which promises an investment of more than US$140 million in the Arkansas River corridor alone. Plans include the creation of a lake in the Arkansas River, the replacement of Zink Dam, a variety of levee and design improvements and the construction of the new bridge.