Farrans is constructing the bridge for Suffolk County Council. The north approach viaduct sections known as NAV2 and NAV3 arrived at the construction site on Lake Lothing in Lowestoft in March following an eight-hour crossing on a barge from Rotterdam in the Netherlands. They have been fabricated by Victor Buyck Steel Construction.
NAV2 (below) was moved into position in the late afternoon of 31 March and NAV3 is due to be installed today (3 April) subject to continuing favourable windspeeds.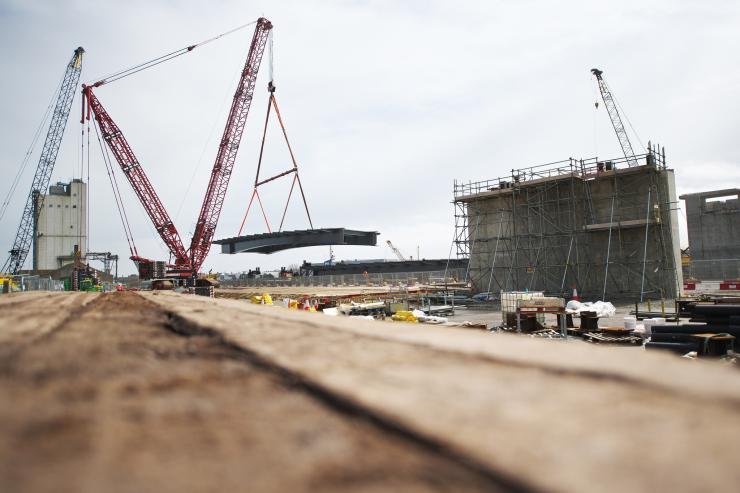 NAV2 is approximately 42m long and NAV3 is 50m long. On delivery, the steel on NAV 2 weighed 221t and NAV 3 weighed 182t.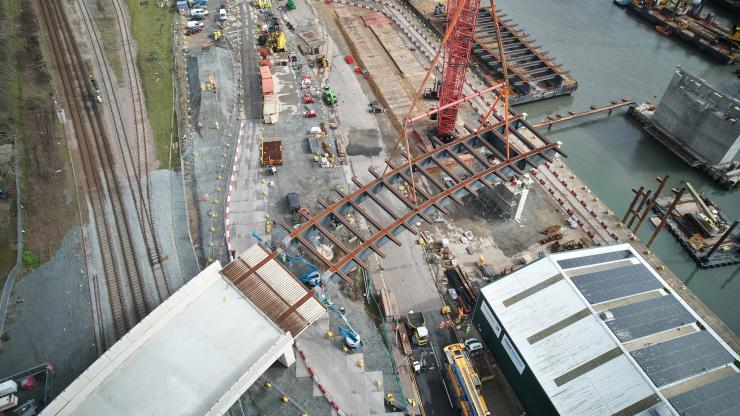 NAV2 and NAV3 are being installed by a Liebherr LR1600, a 600t-capacity crane that is a little over twice the capacity of the crane currently working on the site. It uses a super-lift system, giving it a much greater lifting capacity at the same radius. The crane was delivered on 18 articulated lorries and took three days to assemble.
Neil Rogers, project director on Gull Wing Bridge for Farrans, said: "The arrival of NAV 2 and 3 marks another major milestone in the progress of this important infrastructure project for Suffolk County Council. Moving large steel structures such as these take months of planning, and we are pleased that they have arrived safely to their permanent home."
The Gull Wing Bridge is one of two major opening bridges being built in the region. The leaves were installed last month for the Herring Bridge in Norfolk (link opens in new tab).