The Virginia Department of Rail & Public Transportation (DRPT) said that the step is the next major milestone for transforming the eastern seaboard's freight and passenger rail network. Long Bridge is the only rail bridge connecting Virginia to Washington, DC. Its expansion is designed to double the long-term capacity for passenger and freight rail traffic and improve the reliability of rail services. It will also help create a more cohesive network in the region.
The two-track rail bridge spanning the Potomac River was built in 1904. It is used by local commuters and long-distance travellers as well as freight and often suffers from bottlenecks and congestion.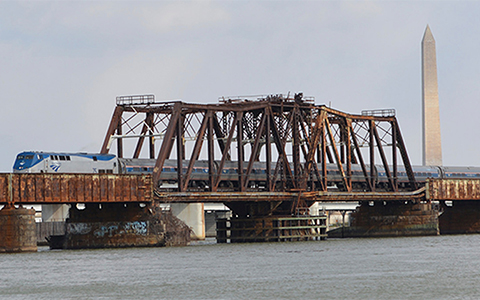 An Amtrak train crossing over Long Bridge with the Washington Monument in the background
The improvements involve doubling the capacity of the crossing by constructing a new two-track bridge adjacent to the existing structure. The project also includes track improvements, along with work to other bridges to accommodate the increased capacity. In addition, multi-modal transport will be incorporated into the project, including a new bicycle/pedestrian bridge across the Potomac adjacent to the railroad bridges, as well as a new bicycle/pedestrian path over Maine Avenue SW.