The proposal 'City of Lights: re-view our waterfront' has won the US$100,000 prize for best submission after ideas were pitched to the competition judges and a live audience. The winning idea proposes removing the Skyway and redistributing traffic over a series of new facilities. A piece of the Skyway high level bridge would be re-purposed as 'Skyway Park', providing views and recreational amenities.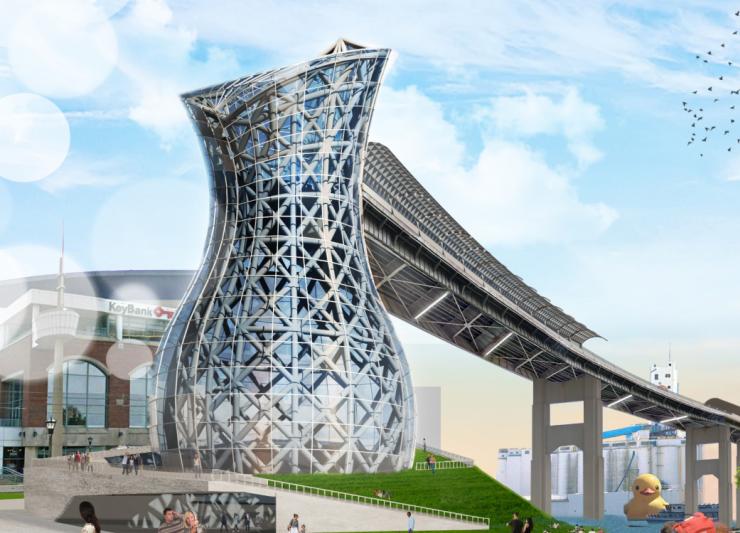 New York's governor Andrew Cuomo and congressman Brian Higgins have committed to securing up to US$600 million in state and federal resources to fund the Skyway removal and new infrastructure development. The plan is to adopt an expedited environmental impact process together with design-build procurement to enable project completion in under five years.
The winning concept by SWBR, Fisher Associates and MRB Group involves removing the barriers separating the city of Buffalo from its waterfront. Removal of the Skyway along with the access ramps makes about 5ha available for development in downtown and Canalside. A piece of the Skyway high level bridge would be re-purposed as 'SkyPark' and traffic would be redistributed over a series of new facilities including a new lift bridge.
'Skyway River Loop' by Marvel Architects takes home the US$50,000 prize for second place. The submission proposes keeping the Skyway, adding new street-level greenway and access features and reframing the entire system for new use. The proposal calls for new local bridge connections.
'Queen City Harbor: bringing Buffalo to the water's edge' came third, winning US$25,000 for Christian Calleri, Jeannine Muller, Min Soo Kang and Andrea De Carlo. They proposed infill neighborhoods on lands opened up or facilitated through removal of the Skyway. The concrete piers of the Skyway bridge would be repurposed to accommodate solar and wind power production.
The shortlist had been announced earlier this month.
"The Buffalo waterfront has always been one of our state's great assets, and by removing the existing Skyway we will lay the foundation for further transformation and growth in this community," said Cuomo. "This competition generated ideas and proposals from some of the nation's greatest minds to redesign this obsolete corridor into a modern transportation network that reflects the exciting turnaround in Western New York and sends a message to the rest of the country that Buffalo is back."