A team of Schlaich Bergermann Partner, Sinai Gesellschaft von Landschaftsarchitekten, Obermeyer Infrastruktur and Enguita & Lasso de la Vega has won the competition. The jury selected the wining design from a total of seven proposals.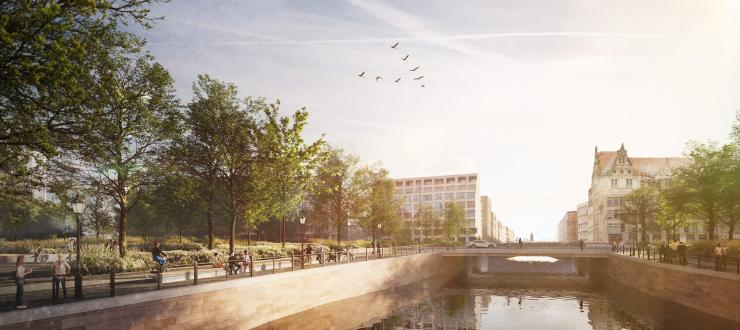 Above: image © Schlaich Bergermann Partner/rendering: Lasserode
Replacement is needed as the existing bridge, which dates from 1978, has structural defects and deficiencies. The new bridge is designed to be slender and will be significantly narrower than the previous structure and will have a reduced span. The winning concept took account of both the bridge and the urban design of the adjacent Spittelmarkt square.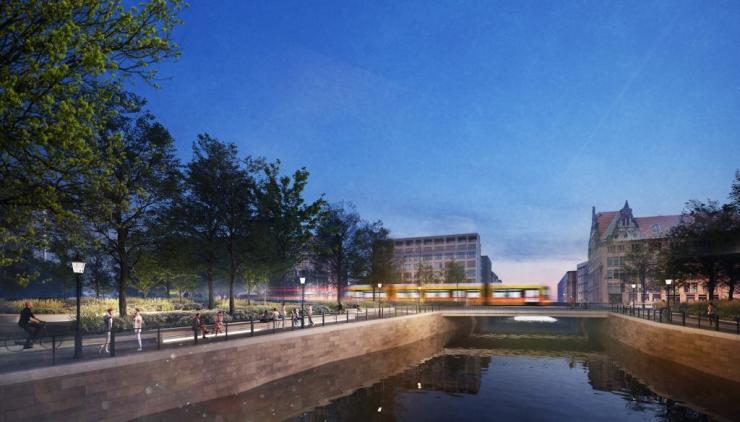 Above: image © Schlaich Bergermann Partner/rendering: Lasserode
"The selected concept proposes to free Spittelmarkt from all the separating embankments that were created during the car-friendly expansion," said the jury. "In this way, this central square can become greener and more suitable for everyday life. It was right to make not only a new bridge but the square a planning task. The bridge design of the new replacement is characterised by its slenderness combined with a reduced span."