Architecture practice Projects Office has won the Arch 42 Gateways competition, organised by the London Festival of Architecture and Wandsworth Council. The winning project, 'Tunnel Visions' aims to use the viaduct's Arch 42 as a connection for the Nine Elms area.
The arch is part of the Victorian railway viaduct carrying the South Western main line into Waterloo station. The aim is to transform it into a new public route that can connect visitors and locals to the new Northern Line Extension, New Covent Garden Market, the US Embassy and the River Thames.
'Tunnel Visions' will see Projects Office work with school children, residents and traders to reimagine traditional railway station 'daggerboards'. Online sessions, and later in-person workshops, where possible, will enable participants to create their own repeat patterns using simple paper-cutting techniques, which will be applied to intricately cut timber façades.
Proposals include a funnel archway highlighting the tunnel's southern entrance with integrated seating and lighting, a decorative arch to the north, a 'community totem' that will glow at night and planting.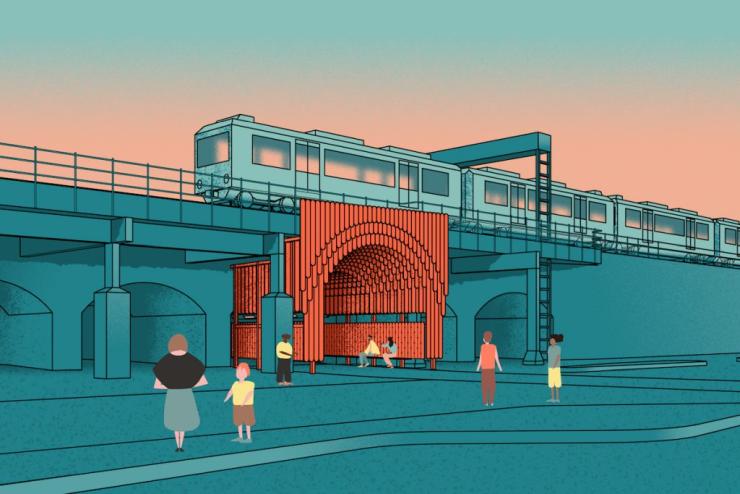 Almost 700 people sent in their comments on the shortlisted designs during a virtual public exhibition in December 2020. The winning design was then selected by a panel of judges.
Panel member David Bickle, partner at Hawkins Brown, said: "Projects Office's winning proposal for Arch 42 effortlessly answered the brief and responded deftly to the complicated and challenging nature of the site. Both poetic and pragmatic, it is a fitting theatrical response for a place that is experiencing dynamic and turbulent change."
Projects Office will now work with stakeholders, and the local community to build upon and develop the initial design, with a view to delivering the project ahead of the scheduled opening of the Northern Line Extension in autumn 2021.