The winning team is composed of the engineering company Cowi, bridge architect Dissing+Weitling, and, on the landscaping side, Arkitema. They beat four other prequalified entrants to the competition.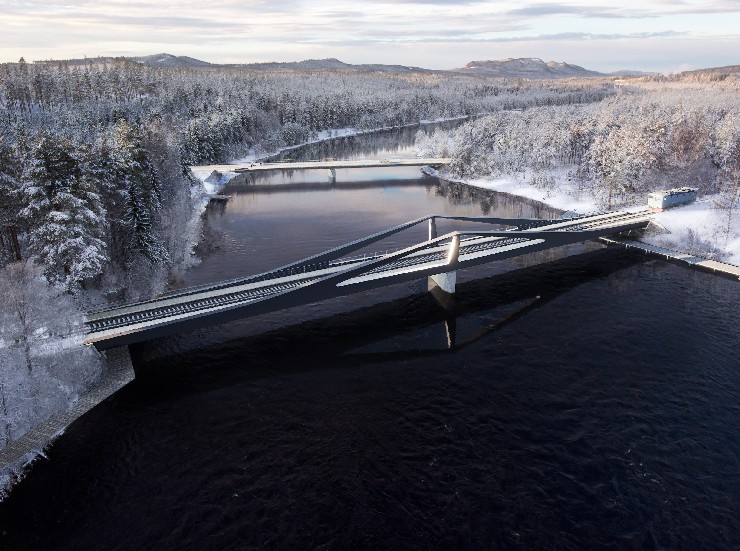 Jesper Henriksen, partner and architect at Dissing+Weitling, said: "The bridge will have a simple and elegant design – with a dynamic appearance that naturally blends in with the surroundings and speaks to the history and position of the place in relation to a world-famous cross-country ski race. We've created a design which, together with all technical, environmental and aesthetic qualities, can become the landmark that the town wants. Our solution simulates the movement of a skier and is beautifully lit. With its moderate scale, it confirms that we're in the countryside, but in a valuable context. The large crystalline surfaces will sparkle in the light and create a harmonious interaction with the water and nature."
Cowi project director Niels Bitsch said: "In addition to the statics and the special considerations we must take when designing a rail bridge, one of the particular engineering challenges of the project is the water flow of the Österdal River, which causes considerable erosion around the supporting structures of the bridge. We had to fit the bridge into the topography of the area, and consider the aquatic environment as well as the unique nature and wildlife on both sides of the river during and after the actual construction. Moreover, we've worked on designing a relatively simple steel construction that is easy to maintain, and which can be manufactured and fitted smoothly and efficiently."
The jury described the winning design, 'Kinetik', as a fully fledged proposal, in which form, construction and feasibility have been weighted equally. The design demonstrates a very successful collaboration between architect and engineer, they said. "The two bridges have been designed as an architectural unity and appear as a beautiful silhouette from a distance – but they have also been designed down to the last detail and have qualities even close up."
The Oxberg Bridge is scheduled to be completed in 2024.