The city's mayor Rahm Emanuel has broken ground on a new pedestrian and bike bridge at 41st Street over South Lake Shore Drive.
The bridge, together with another that will be built at 43rd Street, has been designed by Aecom with Cordogan, Clark & Associates. The inclined arch mono-truss structures are each about 448m long and will each support large S-curves that echo the curves of the walkways in Burnham Park.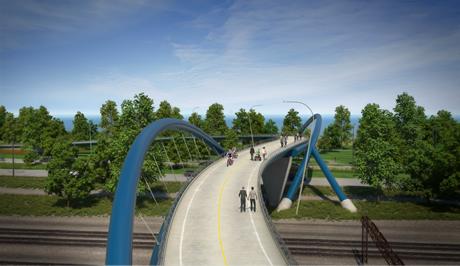 The prime contractor is FH Paschen and the construction project will be managed by the Chicago Department of Transportation (CDOT).
The new pedestrian and bike bridge is the second of five bridge projects announced by Emanuel to improve access to the lakefront on the city's South Side. A replacement pedestrian bridge at 35th Street opened in 2016. Construction of a new vehicular bridge over rail tracks is scheduled to start by the end of the year. Engineering plans for the replacement of the pedestrian bridge at 43rd Street are being completed; engineering is also being finalised on a project to replace the bridge over the rail tracks at 31st Street.