The new bridge will be delivered through the design-bid-build delivery method, with procurement beginning in early 2023. Hardesty & Hanover is serving as the lead designer for the preliminary and final design of the bridge, its approach structure and at-grade approaches.
The intention is to award the construction contract in late 2023 and work on site is expected to start in early 2024. More than US$500 million are being invested in the project by Amtrak, Connecticut Department of Transportation (CTDOT) and the Federal Railroad Administration (FRA). Amtrak said that interested contractors should monitor its Procurement Portal for solicitation information, submittal requirements and an upcoming online presentation of the project and the procurement process, which will be published in the coming months.
"Building a new Connecticut River Bridge is one of several projects Amtrak is advancing that signifies we're in a new era for rail," said Amtrak executive vice president, capital delivery, Laura Mason. "We thank our partners for their support, and we look forward to awarding the contract so we can get shovels in the ground for a project that will improve reliability of the NEC [Northeast Corridor] and train travel in Connecticut and beyond."
Connecticut transportation commissioner Joe Giulietti said: "Thanks to the Federal Railroad Administration's and the Connecticut federal delegation's continued support of Connecticut's rail infrastructure and our ongoing partnership with Amtrak, much-needed improvements to the Connecticut River Bridge are on the horizon. This area is a critical piece of infrastructure along the Northeast Corridor, and through this project, services will improve, and speeds will increase. We look forward to working with Amtrak and all our partners on this important project."
The project will involve building a two-track, electrified moveable bridge, which is expected to have a useful life of 150 years. As part of the project, the selected contractor will also perform any environmental mitigation required by the permitting process.
The Connecticut River Bridge, first built in 1907, is located on the Northeast Corridor (NEC) and is used by Amtrak, CTRail's Shore Line East and freight trains. The existing 475m-long bridge consists of seven thru-truss spans, two deck girder spans and one 48m rolling lift span.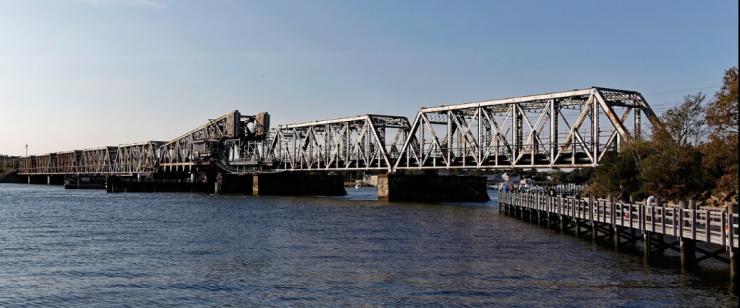 The bridge carries approximately 35 passenger trains and six freight trains per weekday. In recent years, the draw span of the bridge has been operated approximately 3,700 times a year to accommodate navigation on the Connecticut River. However, failures to open and close properly have been resulting in delays for both rail and maritime traffic. The bridge's age and deteriorated condition mean that its operational reliability is at high risk.