The US$16 million contract will be carried out by a joint venture of EllisDon Civil and Chant.
It involves replacement of the lift span's deck, restoration of the approach spans and widening of sections of the sidewalk to allow more space for pedestrians and cyclists.
Construction is due to begin in winter 2023, during the bridge's annual winter shutdown for maintenance and repairs. The project is expected to be completed by autumn 2024.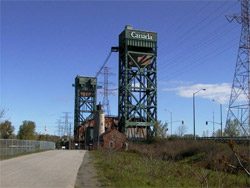 "The Burlington Canal Lift Bridge is an important asset for the community," said minister of public services and procurement Filomena Tassi. "This contract award for the construction work on the bridge is another important step to extend the life of the bridge and ensure that it continues to serve both local and national transportation needs. Improvements to the bridge will ensure the safety of bridge users for decades to come."
The deck replacement will take approximately three months to complete. The rehabilitation of the bridge approaches and sidewalk-widening will follow the deck replacement.
The appointment of EllisDon Civil and Chant follows the award of a US$1.43 million design and engineering contract in February 2022 to Aecom Canada to develop the design for the new bridge (link opens in new tab).
The lift span is 116m long, weighs 1,996t and has a vertical lift of 33.5m.