The 1,200t-capacity Gottwald AK680-3 was needed for a series of lifts to install the main deck girders of the Clydach River Bridge. Six 70-metre span weathering steel main plate girders were brought onto the site in sections by Victor Buyck Steel Construction, with the lifting being carried out by Sarens Group.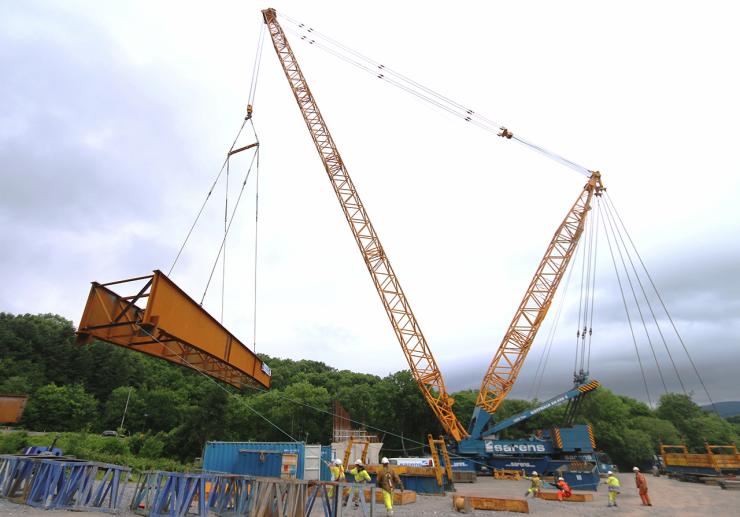 Pairs of girders were joined together with bolted splices and internal bracing into 4m-high beams weighing 160t. The crane then lifted three of the pairs into place on the bridge abutments, ready to take a precast concrete deck to be completed later this year.
"Usually the next stage would be to put up permanent formwork and cast an insitu deck," said structures manager Dave Morris. "Instead, the whole deck will be precast in sections in a compound on site. There are two main reasons for this: it gives us critical programme savings and it also lightens the deck itself due to the reduction in support steelwork, so it's a sustainable and a cost-saving engineering solution."
Thermal expansion has been a particular challenge, given the size of the steel beams. "Over a single day we have seen the steel lengths increasing by 15-20mm as they expand and contract in relation to the temperature extremes of the weather," said Morris. "A key sequence of work is to get the timings right to grout the thrust plates in and cast the main diaphragms that will effectively lock the steel beams into the bridge at the required length. After the diaphragms are cast and deck slabs are installed and stitched together we can then waterproof it, put on the parapets and handrails and install the full road surfacing."
When complete, the piled integral steel composite bridge will have a single 67m clear span over the River Clydach.
The site team also includes Atkins and Thames Valley Construction; the client is the Welsh Government.
Currently, the bridge work is a month ahead of schedule, with a target completion date at the end of March 2017.