Contractor on the New NY Bridge, Tappan Zee Constructors, has begun installing enormous concrete cross-beams between the towers of the crossing.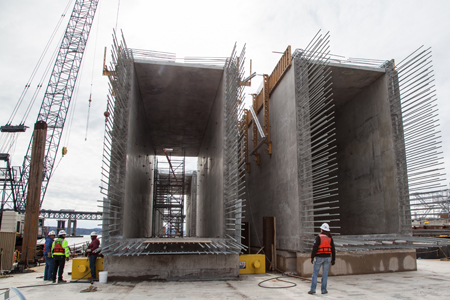 Coastal Precast Systems of Chesapeake, Virginia, fabricated four crossbeams: two 21m-long beams for the westbound bridge (which includes the future bike-pedestrian path) and two 18m-long beams for the eastbound crossing. Weighing nearly 2,721t in total, the four beams were cast on a floating barge, which then travelled from southern Virginia through New York Harbor and up the Hudson River.
The crossbeams form the horizontal segment of the H-shaped main span towers, providing support for the rising towers as well as the future road deck.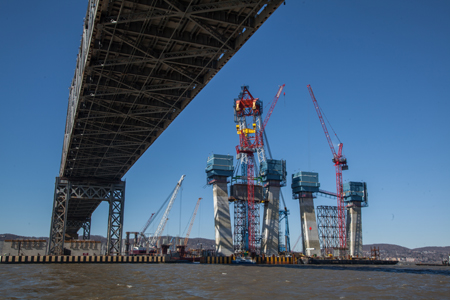 After arriving at the project site, the cross-beams were prepared for installation by the I Lift NY super crane, the only crane on the project capable of the job. Over several hours, the first 590t crossbeam was precisely placed, more than 30m above the river.
Temporary steelwork will hold the cross-beams in place as crews make permanent connections to the towers. The strength of these connections is critical to the integrity of the bridge, securing the outward-angled towers as they grow to their ultimate 127m height.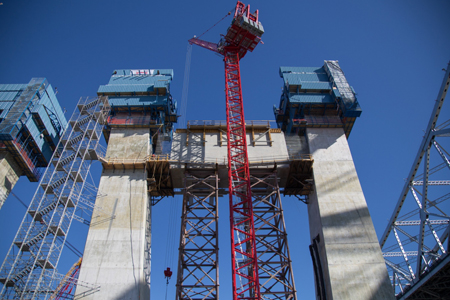 Three cross-beams have now been installed; the remaining one will be placed in early March. Deck operations are scheduled to begin this summer when TZC places steel sections on which large road deck panels will be installed. Supported by steel cables, the structural steel and deck work will continue outward from the towers until meeting with the advancing approach spans from Rockland and Westchester.