The agreement establishes that approximately US$109bn will be paid, which is about half of what was initially requested by the contracting consortium, Consorcio Puente Chacao (CPC).
Minister Alfredo Moreno made the announcement during a site visit in which he was accompanied by the vice president of Hyundai's Infrastructure Division, Ji Sang Ju, and representatives of CPC.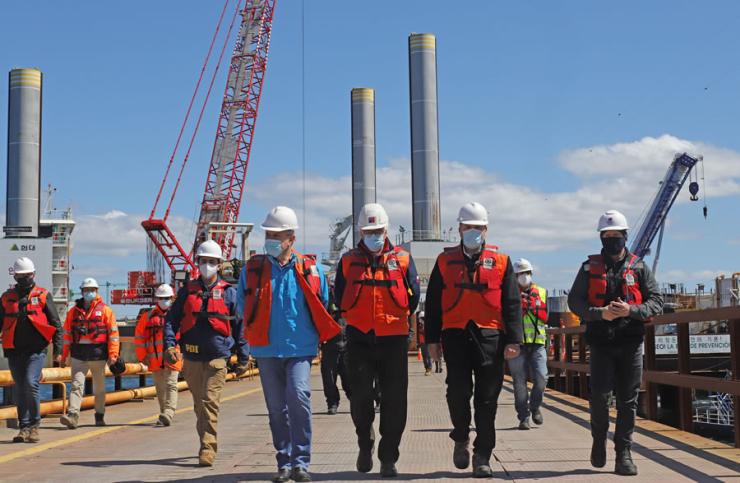 Above: Minister Alfredo Moreno made the announcement during a visit to the Chacao Bridge site
"The accepted values correspond entirely to increases in the safety of the bridge," said Moreno. This includes more extensive foundations to protect against scour and the use of piles rather than footings to anchor cables as the ground has proved to be worse than expected. There is also an increase in the bridge's safety factor, added Moreno.
Moreno said that CPC made public its differences with the ministry last December and many people feared that construction would stop. "That was not so," he said. "The Chacao Bridge has continued its construction throughout this time and today I would like to announce that we have reached a complete agreement with the consortium. Each of the claims they presented have been analysed to determine which of the requirements corresponded to the contract and which were additional, and the relevance of the values of each item has been verified."
The 2,750m-long suspension bridge will link the Island of Chiloé with the mainland. Construction is about 20% complete and the project is currently employing about 800 people directly.