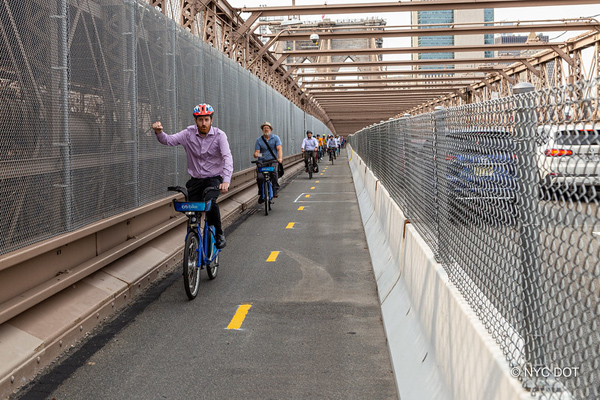 Image: NYC DOT
The new 2.5m-wide cycle path replaces an inside vehicular lane in the Manhattan-bound direction of the iconic structure in New York City. It is the first reconfiguration of the structure since trolley tracks were removed in 1950.
On-site works project began in June and completed this month (September). These included installing barrier segments, creating a new connecting bike path in Manhattan, new traffic signal construction, adding protective fencing on the interior of the bridge, and implementing traffic changes to help avoid greater congestion nearby.
Prior to completion, around 60,000 cyclists used the structure to cross the East River per month in contrast with around 10,000 pedestrians each day. "Diverting bikes to this path will make the bridge's pedestrian paths even more popular and make everyone, whether on two legs or two wheels, feel safer. Kudos to the Mayor and the DOT for executing this long-overdue improvement," said Manhattan Borough President Gale A Brewer.