The design of Camden Highline has been awarded to a team led by James Corner Field Operations – the firm behind the New York High Line - in collaboration with Kentish Town-based vPPR Architects. Other team members include London artist Hew Locke, community consultation organisation Street Space and Dutch garden designer Piet Oudolf.
The decision on the winning team follows a two-stage international competition organised by Colander Associates on behalf of the charity Camden Highline.
They will now work with the local community to develop the scheme for the 1.2km stretch of viaduct.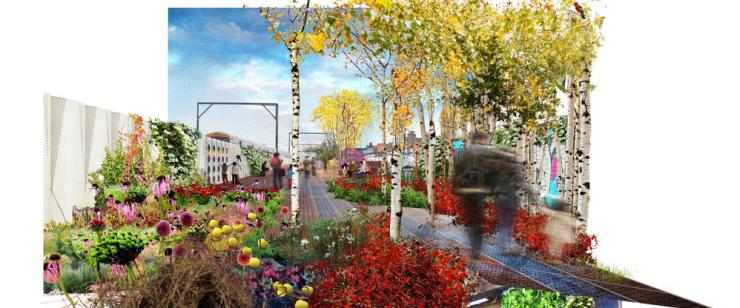 Initial stages will see the winning design team consult with the local community and key stakeholders to create a design plan and advance it through the planning process.
Mayor of London Sadiq Khan said: "Camden Highline has the potential to become a really important new asset for the local community in Camden and people across the capital. This is exactly the sort of innovative, environmentally sustainable and locally-driven project which could make an important contribution to London's recovery from the pandemic. I really look forward to seeing these ambitious plans take shape."
Minister for London Paul Scully said: "It's fantastic to see a slice of the Big Apple coming to London, with the creation of a new park in the sky in Camden inspired by the New York High Line. The Camden Highline will not only create some welcome additional green space in central London for local residents to enjoy, but cement Camden's place on the map as a top tourist attraction — providing a welcome boost as we build back better, and greener, from Covid-19."
MP for Holborn & St Pancras Keir Starmer said: "Camden Highline is an ambitious project to bring new life to old rail infrastructure, connect our communities and increase our access to green space. This new link has the potential to support our mental and physical wellbeing, which is so important as we move forward from this pandemic. I am really looking forward to seeing the plans take shape."
Leader of Camden Council Georgia Gould said: "Camden Highline is a grassroots project that has been grown and nurtured by a vibrant community of local supporters. It has been amazing to watch it go from an idea backed by locals to now seeing it secure global attention and an award-winning design team. Camden, and indeed the whole of London, will reap the social and economic rewards that this exceptional new park will bring."
Lead designer James Corner of Field Operations said: "Camden is such an extraordinary place, a vibrant, hip, and diverse community that will soon enjoy an amazingly unique, public green thread that ties its various communities together in ways both revelatory and transformative. We could not be more excited to work with residents and stakeholders to create a one-of-a-kind elevated park along the viaduct that speaks to the magical symbiosis of nature, culture, arts, and community."
Tatiana von Preussen of vPPR Architects, said: "We are delighted to be selected to work with James, our design team, and the Camden community to create a really distinctive and delightful project for Camden. As local residents and business, this project is very special to us and we look forward to the next few months, generating ideas and building a wonderful sense of community, design, and aspiration for this important project."