Jacques Cartier & Champlain Bridges Incorporated (JCCBI) has set out the timescale for the project and the methods that its contractor, Nouvel Horizon Saint-Laurent (NHSL), will adopt.
The bridge's replacement opened last year.
The deconstruction of the original bridge's shoreline sections will be carried out from jetties set up along the river using standard equipment - excavators and cranes.
Work from the river, which will be required for over 65% of the project, will be done with a system of platforms attached to high-capacity lifting towers installed on a catamaran barge. This work, which is scheduled to take place from 2021 to 2023, will be performed in a controlled environment designed to be away from residences and to respect the river environment and the local community.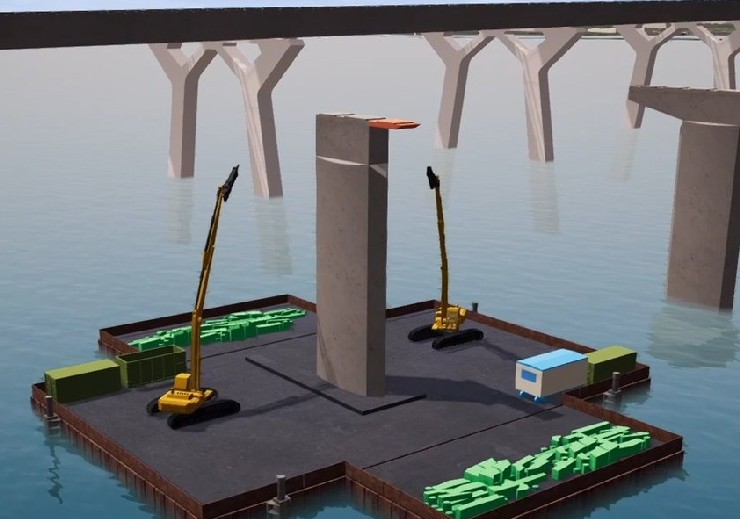 Work on the steel structure over the Seaway will begin in the autumn and winter of 2021-2022. First, the suspended span will be removed and lowered onto a barge using strand jacks. This will be followed by the dismantling of the cantilever sections and anchor spans using a crane set up on the jetties and the Seaway dike. The last phase will include the deconstruction of the bridge piers using high-capacity excavators followed by the demobilization of the jetties by the end of January 2024.
"The Champlain Bridge deconstruction project will create jobs, allow for more access to the shoreline and maximise the reuse of materials from a bridge that was an iconic part of the Montreal landscape for almost sixty years," said minister of infrastructure and communities Catherine McKenna. "I'm happy that The Jacques Cartier and Champlain Bridges Incorporated and Nouvel Horizon Saint-Laurent are working together to ensure this project is carried out in a sustainable way that minimizes the impact on local communities and protects the environment for everyone's benefit."
NHSL project director Fabrice Guédon added: "We are very proud to contribute to this major deconstruction project that is on a scale never before seen in Quebec while respecting the environment and communities. Our know-how, combined with JCCBI's high standards, will help us apply sustainable approaches that we hope will inspire new deconstruction practices for future projects."
Some work has already been completed. JCCBI said that the deconstruction of the abutment and two spans on Nuns' Island went well and was carried out to ensure compliance with environmental criteria and with minimum impact to the community.
In addition to the deconstruction, 10 research and development projects will be carried out involving various components and aspects of the Champlain Bridge, such as its concrete elements, steel structures and reinforcement techniques. The researchers have already begun their work, and some components were removed from the structure on Nuns' Island.