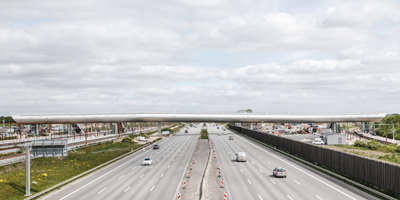 Photos: Dissing+Weitling/Cobe/Cowi/Rasmus Hjortshøj - Coast Studio
The 225m-long enclosed crossing forms part of a newly constructed transport hub that combines highway, regional rail and a future high-speed rail line around 25km southwest of Copenhagen.
The station will serve six local trains and three regional high-speed trains per hour per direction, with around 8,000 people expected to use the hub each day.
The project was the result of an international competition that was announced in 2014, with 38 teams taking part from Europe, Japan and USA.
The 9m-wide bridge superstructure consists of a simple box girder that is supported by seven piers, with the longest span reaching 58m over an eight-lane highway. The box girder is equipped with a dehumidification system and there are two tuned mass dampers in the two longest spans.
Around 4,800m2 of anodised aluminium panels form the elliptically-shaped exterior of the crossing, which is accessed by five elevators and five sets of stairs and escalators.
The naturally ventilated bridge features glass walls on its northern side to provide 180° views over the landscape; the southern wall carries few windows to avoid over-heating inside the tube.
The consulting engineer for the design of the steel structure and the 3D modelling was Cowi, with Dissing+Weitling Architecture responsible for the station building's envelope and interior fittings. The elevators, stairs, escalators and benches were designed by Cobe. Contractor was Bladt Industries and the station owners are rail maintenance agency Banedanmark, Køge Municipality and Danish State Railways (DSB).