It is holding an online information meeting today (21 June) on the E39 Ålesund-Molde project. The meeting comes a week after Norway's parliament, Storting, adopted the country's National Transport Plan.
The project's two-kilometre-long Julsundet Bridge will be one of the world's longest suspension bridges.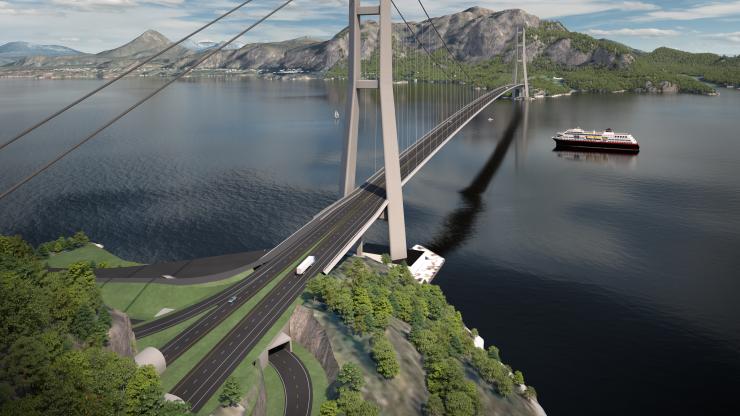 The NPRA has planned a contracting strategy with a wide range in the size of the contracts. The smallest will amount to a few million dollars for preparatory construction work. The Romsdalsfjord Tunnel and Julsund Bridge will be the largest contracts, with values of about US$350 million to US$470 million. The subsea tunnel will be approximately 14.5km long and will have two tubes. The 2,010m-long suspension bridge will have a main span of 1,625m – one metre longer than Europe's current record-holder, the Great Belt Bridge in Denmark.
Another major bridge being planned as part of the ferry-free project is across Kjerringsundet. It will be about 800m long, with a main span of 540m, and will be either a suspension bridge or a cable-stayed bridge.
A further bridge with a main span of about 250m will be built across Bollholmsundet.
The E39 Ålesund-Molde project is divided into five plan sections:
Breivika/Ålesund-Digernes
Digernes-Ørskogfjellet
Ørskogfjellet-Vik
Vik-Julbøen
Julbøen-Bolsønes/Molde
"This is a good and important project,"said NPRA project manager for the E39 Ålesund-Molde, Harald Inge Johnsen. "We have divided it into a significantly higher number of contracts than the number of plan sections." There will be a total of 20 to 25 contracts.
Johnsen added: "Through hard work, the NPRA has succeeded in developing good solutions for bridges, tunnels and the rest of the road. Now we are looking forward to starting a dialogue with the construction industry. Together we will be building a unified Møre og Romsdal."