The 3.4km-long structure with its cable-stayed bridge signature span now has all steel girder segments in place, the latest major milestone after the last of the 37 steel pier caps was erected in July this year.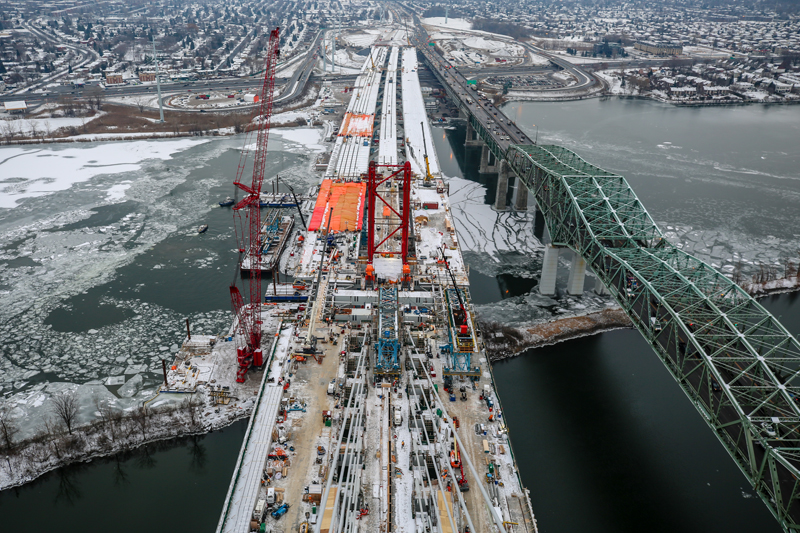 (Infrastructure Canada)
Construction of the cable-stayed bridge has always been the most challenging part of the project. The single tower bridge has asymmetrical spans; a 124m-long back span and a 240m-long main span. Fifteen pairs of stays on each side of the tower are arranged in a harp configuration, and the erection strategy was designed to allow work to continue on several parts of the bridge simultaneously.
The back span erection started with the use of temporary shoring built on a jetty at the foot of the main span tower, during which the precast inclined leg segments of the lower tower were being erected. After the legs were connected by both the lower and upper cross-beams, the upper tower segments switched to cast-in-place construction with self-climbing jump forms.
The final tower segment concrete pour was completed on October 10, 2018. To further accelerate construction, four 12.5m superstructure segments were erected from the first east pier, supported by a 'king post' with temporary stays.
At the same time, 11 main span segments were erected from the tower using a custom-made dynamic lifting frame and a movable lifting beam capable of carrying all fully assembled 12.5m-long by 57.3m-wide main span segments which weigh approximately 850t each. Stay installation followed segment installation.
The last approach steel girder on the eastern side was lifted in place on 5 October and the last main span structural heavy lift took place on 9 December. All 15 pairs of backstays as well as 11 of 15 main span pairs of stays have now been installed.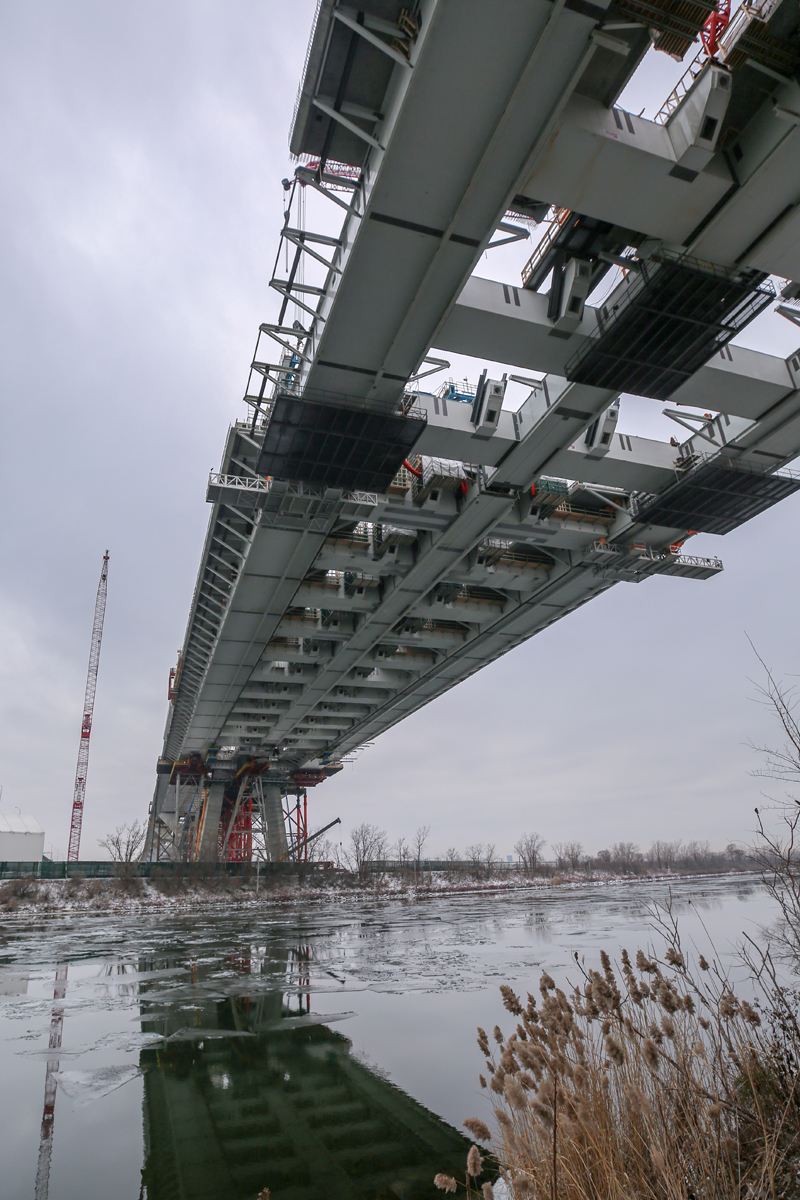 (Infrastructure Canada)
The next operation to take place is connection of the two deck cantilevers using a series of robust splice plates. Careful adjustments of the temporary and permanent stay forces are required to bring the segments into alignment before the connection is made using an alignment system.
The Government of Canada selected Signature on the Saint Lawrence Construction, a partnership of SNC-Lavalin Major Projects, Dragados Canada, Flatiron Constructors Canada and EBC and TYLI-IBT-SLI Joint Venture (a design joint venture of managing partner TY Lin International Canada, International Bridge Technologies Canada, and SNC-Lavalin) to design and build the new bridge through a P3 procurement process.