The 340m-long bridge, which has a 105m-tall A-frame pylon, crosses the River Wear.
Locally built Nissan vehicles will be first across the bridge when it opens; pedestrians were given the opportunity to walk across the previous day.
Councillor Graeme Miller, the leader of Sunderland City Council, said: "I am delighted that Northern Spire is opening to traffic this week. It looks stunning and is a great addition to the Sunderland skyline."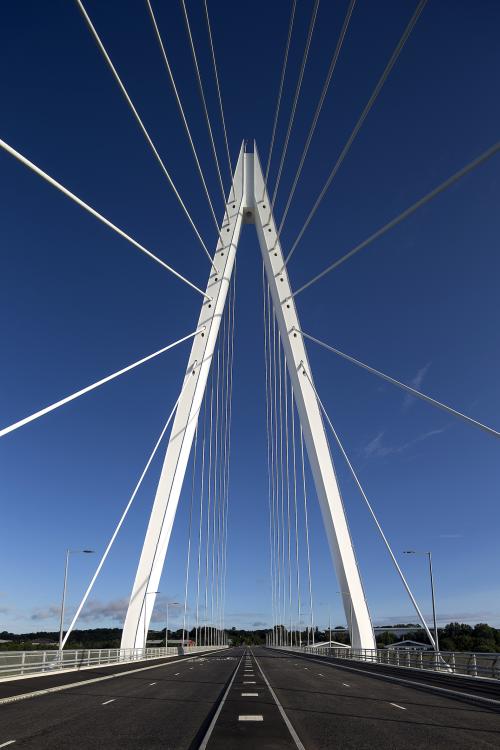 During the three-year build programme, more than 2,000 people have worked on the project, which has been built within its allocated US$150 million budget. The construction contract was awarded in May 2015 to FVB JV, an international joint venture set up by Farrans Construction and Victor Buyck Steel Construction specifically for the project. FVB JV has been supported by a design team led by Buro Happold Engineering and Roughan & O'Donovan, and independent checker Ramboll.
The bridge was scheduled to open in spring this year. However, poor weather during the first four months of 2018 slowed the painting of the pylon, which required very still, dry, calm conditions, both for the painting itself and for the use of the high-level working platforms needed.
Stephen McCaffrey, project director for FVB JV, said that the construction project – the biggest in the North East in recent years – had come with a number of challenges along the way, not least the weather. "It's been a major project that, at times, was both complex and challenging, requiring the skills and expertise of so many different groups of people," he said. "Bringing all those people together, sitting down and planning the project and the methodology to build it was one of the greatest challenges, but also one of the most satisfying. We are fortunate that we have had some very talented people working on this project, and it is those people who have made it a success. We hope people enjoy travelling over Northern Spire as much as we have enjoyed building it."