Public consultation has begun into four alternative designs of the new bridge for pedestrians and cyclists.
Early last year, Aberdeenshire Council commissioned a study by Aecom to explore options for the new crossing of the River Deveron. The study has been funded and supported by Nestrans, the regional transport partnership for Aberdeen City and Aberdeenshire.
The choices are:
• Option 1 (below) is for a cable-stayed crossing to the north of the existing Banff Bridge. It would be slightly curved at its central point towards the existing bridge and single tower would support the structure.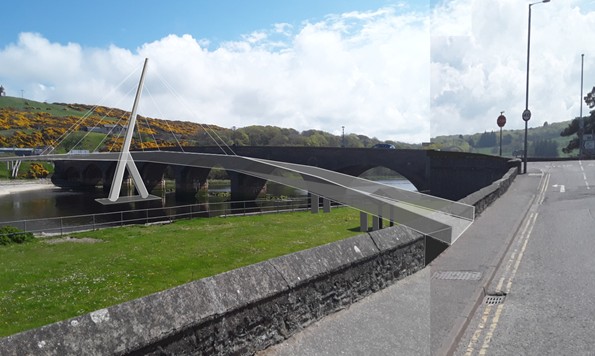 • Option 2 (below) would be constructed of marine timber and again located to the north of the existing Banff Bridge. This option would cross in a straight line. There are multiple supports with this option, and the initial intention is that these would align with the supports of the existing Banff Bridge.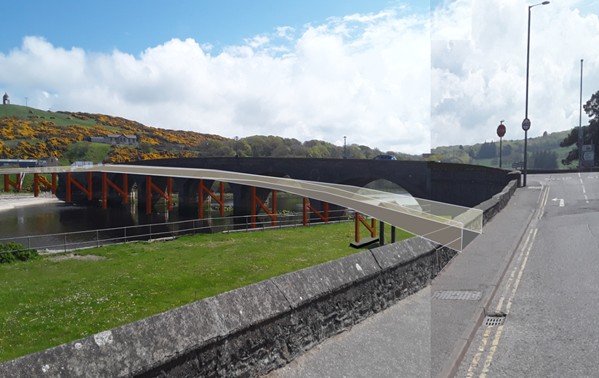 • Option 3 (below) is for a downstream bridge constructed of concrete with arches similar to those of the existing Banff Bridge, though the design finish would be considerably different to that of the historic structure. This bridge is slightly further north than options 1 and 2 making for a longer bridge, but shorter overall journey for pedestrians and cyclists.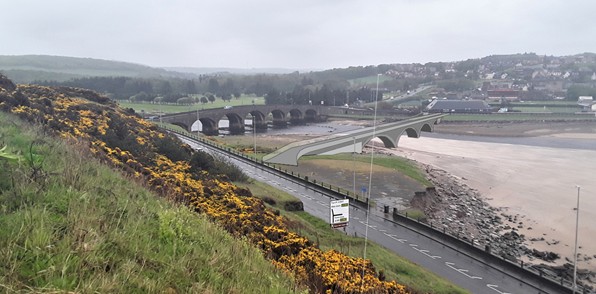 • Option 4 (below) is a concrete structure to the south of the existing bridge. This option has open arches, again acknowledging the design of the existing structure though aesthetically looking quite different.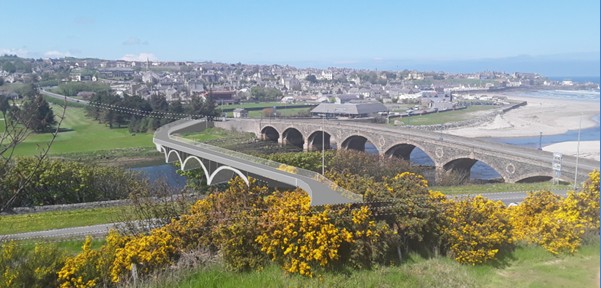 Councillor Peter Argyle, chair of Aberdeenshire Council's environment and infrastructure services committee and vice-chair of Nestrans, said: "I am delighted to see the four impressive design options being revealed for the first time and would strongly encourage the communities of Banff and Macduff to engage with us during the consultation period to ensure this active travel bridge is developed to meet the needs of everyone.
"The creation of a completely new crossing would provide a safe route for pedestrians and cyclists to enjoy healthy active travel between Banff and Macduff for years to come."
ISC vice-chair and Banff councillor John Cox added: "This study and the valuable feedback from the community consultation will enable Aberdeenshire Council to make a decision in respect of the location of this new connection between the two towns and help provide the basis for bids to external funding bodies to make it a reality.
"This is an opportunity to complement the work in establishing a complete link along the Banffshire Coast from Speyside through Moray to Buchan. Of course, the consultation should not be confused between the debate of a footbridge versus a new road bridge. The road bridge forms part of other considerations with regards to its condition and impact should it become unusable for vehicles."